The Mindy Project season finale falls short despite a great last season
With it's sixth and final season, the Mindy Project successfully ended a comedic, feel-good show about an out-of-the box Indian American woman on a quest for love in New York, leaving viewers feeling happy, but not entirely satisfied.
The Mindy Project follows Mindy Lahiri, an always-busy ob/gyn, as she dates all the men of New York, trying to find her perfect, 80's-style romance. If this sounds like the cheesy romantic comedy you only watch after perusing every other interesting show on Netflix, think again. The Mindy Project laces a hilarious sense of comedy into every episode as it stars a minority character that goes against traditional norms. Mindy is a refreshing take on the hopeless romantic in New York City; instead of being touchy-feely, "quirky", and miraculously skinny, she portrays a real, yet entertaining woman who loves to eat, is cringe-inducingly awkward, and has a hilarious (if slightly offensive) sense of humour. The many other side characters, including her numerous love interests and coworkers (sometimes both at the same time), also have a level of depth that makes them real, yet loveable.
Over the course of the series, we see Mindy and the gang progress. After having a baby, opening up a new practice, getting married, going through a  divorce and having her heart broken and stepped on, Mindy emerges as a somewhat mature and caring person who finally stops reaching for the dramatic movie moments and begins enjoying the small things and big steps of her life as they are.
While the show has come a long way, the last season was not exactly what I was hoping for the show's end. The last season of any show should be like the whipped cream, rainbow sprinkles, and a cherry on the top of an ice-cream sundae. I wanted to end with sweet memories, some exciting moments, and a perfect ending that leaves me satisfied. Unfortunately, the sixth season was just like any other season of the show: it was entertaining, but it wasn't spectacular. The last few episodes didn't have the air of finality that would have given the audience closure.
To start with, the beginning of the season showed Mindy as married – something she had always wanted throughout her life. I wanted to see how she dealt with the realities of marriage and also how her relationship with her stepdaughter would play out. Disappointingly, Mindy was divorced before any deeper exploration could occur, leaving us with questions and also wondering what the point was of including the failed marriage in the plot. Another disappointment was the lack of romance with her obvious soulmate Danny Castellano. I was looking forward to seeing how they would reunite and how their relationship would progress after breaking up and remarrying, and divorcing other spouses. Throughout the whole season, there was no real flirtatious banter, cute moments, or really many significant seasons with both of them together to qualify as a romance. At the very end, the two reunited suddenly after Mindy proclaimed her love in the last 30 seconds, leaving me very confused and unsatisfied.
This leads me to another frustrating point: the last moment. The show has been telling the story of a flawed woman who learns the realities of the world and grows in the process. The ending showed her reunited with Danny, focusing on the romance (which was barely there for the season) instead of her growth at the end.
Despite these flaws, the last season was still as great as ever, and was faithful to the show's portrayal of Mindy as an independent, but flawed woman. While the finale failed to reach my expectations, overall, the season was enjoyable and hilarious. Each episode is a wild ride and I'm happy to see how it all played out, but kind of sad that it's over.
4/5 stars
About the Contributor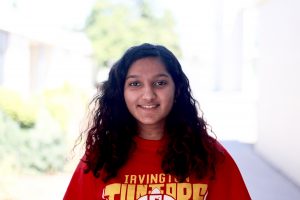 Atira Nair, Staff Writer
Atira (11) is a staff writer and entertainment apprentice. This is her first year. Her favorite part about working at the Voice is the class itself because she enjoys being able to talk and work with the interesting people on the staff. Her hobbies include reading, writing, drawing, sleeping, having existential crises, eating snacks, and listening to Hamilton on repeat. Outside of class, you can find her sleeping probably, drinking boba somewhere, reading a book, or avoiding her responsibilities.