Science Olympiad Team Azure Excels at Troy Invitational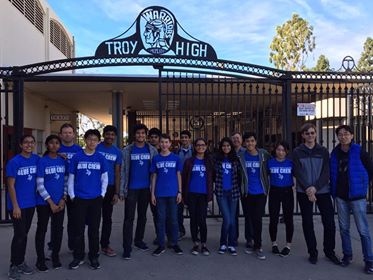 Team Azure, one of Irvington's three Science Olympiad teams, participated in the Troy Science Olympiad Invitational in Fullerton, Southern California on Dec. 9. The tournament consisted of 23 rounds, with two to three members participating in each event.
Team Azure competed in all three categories: build, test, and lab. For a build event, members built the required apparatus at home and presented it at the tournament. For a test event, partners study for a test and take it together, while labs are exactly what they sound like, a lab done at the tournament.
Irvington medaled at 5 events in a row, increasing awareness of Irvington's club among other schools, receiving fourth place overall. Lee said that the coaches of high ranked teams were all looking up Irvington, really putting IHS on the map.
Though the tournament was far away from Irvington, Team Azure seized the chance to prepare for the regional competition, as Troy High School, one of the competitors, and the tournament host, have won 11 national titles.
"We saw that many of the top teams that have gone to nationals before were at this tournament," Team Azure president, junior Ryan Lee  said. "We thought that it would be a good opportunity to prepare for regionals."
Lee aims to place in the upper half in the regional competition, improve their scores from the prior year, and qualify for nationals by the end of the school year.
"Even though it was pretty early on in the year, I think we prepared pretty well for this tournament," said freshman Tanya Jain.
In order to continue their growth and success, Team Azure plans to change their studying methods to explore topics in more depth. Instead of relying on websites as their main study resource, they plan on reading college introduction textbooks on the given subjects.
Jain and Lee agreed that the team met their goals for the invitational and is making good progress towards fulfilling their goals for the year.   Lee expressed high hopes for future tournaments, including the upcoming Jan. 27 invitational at UC Berkeley.
"If we're able to maintain this pace for the rest of the year, then there's a very good chance that we'll place first at regionals," Lee said.