Irvington Track and Field fundraises for an all-weather track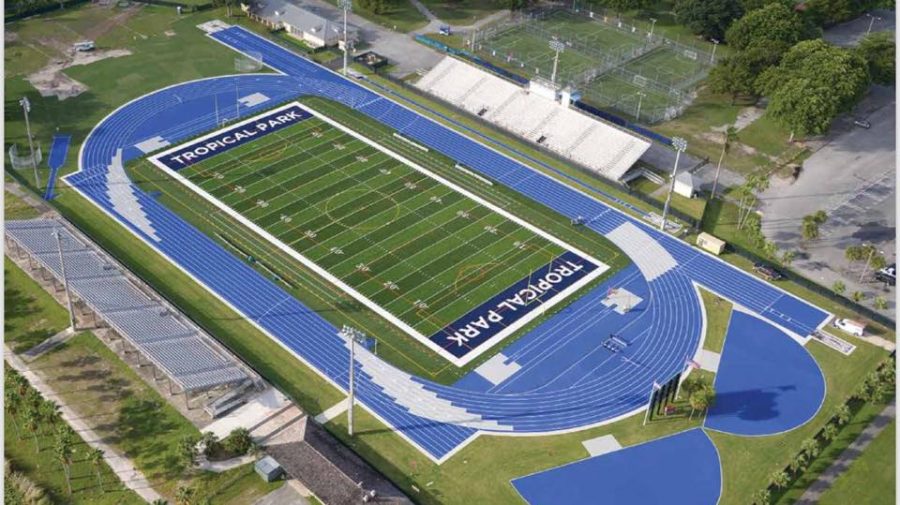 In light of the old, weathered track, which is unable to support Irvington's athletic department, the Track and Field team has restarted fundraising efforts in early January to pay for a new track. Because the team has been using the same track for the past 56 years, Track and Field Head Coach Wayne Stone has coordinated with alumni to raise 100,000 dollars. The track would not only benefit the track and field team, but also help various other departments on campus such as football, cross country, soccer, and P.E. A new track would avoid the meet and game travel fee of around 4,000 dollars annually per sport, as well as allow the possibility of hosting more games at Irvington.
But the price of getting a track and field is expensive by Fremont Unified School District standards. The track is estimated to cost 275,000 dollars alone, and the field would cost an additional 800,000 dollars. Since Irvington is overdue for renovation, there are existing plans to add a stadium, bleachers, and other facilities. To overcome the costliness, Coach Stone is working with Irvington alumnus and professional football player Robert Turbin to enhance the project.
"We talked to Robert Turbin and his NFL people, and he's shooting for 4 million dollars including things like the weight room," Coach Stone said. "If you see the fundraiser, we're only shooting for 100,000 dollars. We want to start small and go from there."
Since the fundraising efforts will not cover this magnitude of expenses, the district's aid is required. As seen in the Mission San Jose pool district meeting, the larger the crowd, the more convinced the Board is to fund various projects. Based on this trend, Athletic Director Mrs. Stone intends for Irvington and other FUSD high schools to collaborate and raise money throughout the city. FUSD is one of the few remaining districts in California to have dirt tracks. To make matters worse, athletes from Mission San Jose, Washington, and Kennedy are obligated to practice together and share the TAK Fudenna stadium.
"I think we need to have an athletic facilities bond. [FUSD] has had bonds in the past and they were supposed to go to facilities but they went to buildings and other things," Mrs. Stone said. "Let's see if we could get the district to pay for the track and the extra money we raise can be put toward the bleachers and all the other extra stuff that we want."
The plan to get a synthetic track originated in 2001. FUSD and sponsors agreed to a new field with a track, but the process was halted in its final stages because of a rejection by the former Athletic Director.
"There's a reason [why] coaches didn't want to be here and that's because there's a difference between saying no and listening to our stories and thorough research," Coach Stone said. "If he had said yes 17 years ago, we would be resurfacing the track rather than trying to [plan a new track] all over again."
Over the years, the dirt track has become even more difficult to manage. According to Mrs. Stone, ground squirrels burrow holes beneath the track, making the ground uneven. Additionally, practices are heavily impacted during the rain season, as the muddy tracks become impossible to run on. Water pools in various places, forcing athletes to run in the hallways. With the a synthetic track, practices can continue, unaffected by weather conditions.
Motivated by the possibility of finally getting a new track for students, Coach Stone continues to remain hopeful throughout the arduous process.
"I'm not going anywhere till its done— I promised myself to make this happened," Coach Stone said. "The alumni are helping me through this. I see in the comments that they are challenging each other and I love that— it's a great cause."
About the Contributor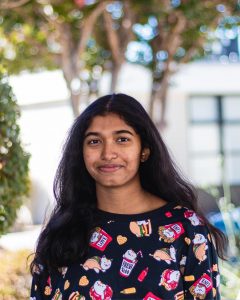 Srinidhi Sankar, Opinions Editor
Srinidhi (12) is an opinions editor of The Voice. She joined as a staff writer her junior year because she wanted to catch the best of the juicy rumors at school and dish about them. Most of the time you will find her hangry, walking up to thirty minutes to find a fabulous burger or spicy food. When she isn't eating, she'll be watching Trevor Noah or laughing at some good ol' Fox News. The only way you can get her to stop binge-watching dramas is to tempt her with clever puns or treat her to quality bibimbap.