Speech Team Wins Big at Martin Luther King Jr. Invitational Tournament
On the weekend of Jan. 13, the Speech Team participated in their first Invitational tournament of 2018 at the MLK (Martin Luther King) Invitational tournament at James Logan High School.  Although a smaller team than most other schools, the team proved to be a force to be reckoned with at this national circuit tournament.
As this was a large, national level tournament, the rounds were spread out over the course of two days.  Saturday consisted of three preliminary rounds, and from those preliminary scores, quarter finalists were selected to compete Sunday. In each round thereafter, more participants were weeded out until only seven speakers remained in the final round for each event by Sunday afternoon.  Of Irvington's speakers, Mehaa Mekala (11) and Suki Singh's (12) Duo Interpretation received third place, Riya Kataria's (10) Original Oratory received seventh place, Mehaa Mekala's (11) Dramatic Interpretation broke into semifinals, and Roshni Sudharsan's (10) Original Oratory broke to quarterfinals.  
The MLK tournament is a TOC (Tournament of Champions) bid tournament, and the competition clearly proved intense as schools from Arizona, the East Coast, and all over the country were in attendance.  The NIETOC (National Individual Event Tournament of Champions) Association decides on a list of bid tournaments for large invitational speech tournaments all around the country each year, and if one competes well at several of these high-level tournaments throughout the season, they can be invited to participate in National Tournament of Champions event.  
Over the years, this particular tournament has maintained its demanding reputation, and this year, it was clearly no different.  Riya Kataria (10) recounts that although the competition was serious, it was definitely a fun experience.
"All throughout my quarter and semi final rounds, I was in a constant cycle of self doubt," recalled Kataria.  "But now, after the tournament, I have really high expectations for myself. Now, I really don't have an excuse for doing badly now that I've done well at this tournament."
Mehaa Mekala (11), Co-President of Speech Club, also expressed her satisfaction with the team's results and her hopes for the rest of the tournaments in the season.  
"MLK is really the first tournament of the second semester where tournaments start getting a lot more competitive," said Mekala (11).  "I feel like we're already doing very well this year with one member already qualified for NIETOC's and another who's on the track to doing so."
About the Contributor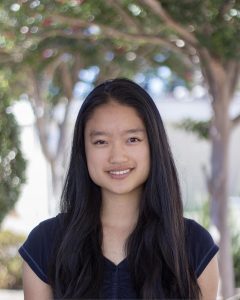 Elaine Chan, Editor-in-Chief
Elaine (12) has been a staff writer on
The Voice
for three years, was previously student life editor, and is currently c0-Editor-in-Chief. She particularly enjoys creating aesthetic layouts on indesign and interviewing people for articles.  In her free time, Elaine enjoys competitive dancing and traveling with her family.