A Taste of Mardi Gras's International Flavors
Irvington's French Community, consisting of the French Club and all of the French language classes, hosted their annual Mardi Gras festivities in the cafeteria on Tuesday Feb. 13.  Although officers were apprehensive about the outcome of this year's Mardi Gras due to the gap year last year, the event proved to be a success and surpassed the expectations of both the hosts and the participants of the event.
The festivities were held throughout the entire day, and during each class period, other classes, mostly language classes, came to immerse themselves in French culture for fifty-three minutes. The period began with an overview of Mardi Gras, where the French Club presented both basic information such as the meaning behind Mardi Gras's thematic three colors and celebratory traditions in addition to fun facts throughout the introduction, explaining how specific cities like Nice, France celebrate Mardi Gras or how the wasteful byproducts of Mardi gras are upcycled.  After the presentation ended with a showing of various skits created by each French class period, participants dispersed to explore the exhibitions on display.
The theme for this year's Mardi Gras celebration was French Speaking countries, and participants had the opportunity to sample morsel-sized versions of each country's traditions at their respective booths and activities. At the Tahiti booth constructed by the AP French class, students engaged in exciting rounds of fish-pong or stood back as spectators and read the beautifully decorated poster board detailing French colonization and culture. At the Switzerland booth, students observed the intricate paper mache mountains created by a French 2 class and learned about Swiss chocolate. At the Vietnam-inspired table, students engaged in a "Wheel of Fortune"-type game after listening to presentations about Vietnam and had the opportunity to spin a wheel and receive Vietnamese delicacies as rewards. Amongst the other booths were delicate bridges and waterways made for Canada and stunning landscapes constructed for Madagascar.  
French club also set up cultural booths, such as a photo booth where participants posed with the exquisite masks for a polaroid, purchased traditional king cake, and engaged in palm reading and a Voodoo booth.  
Despite the success, there was definitely a dash of anxiety evident in the  French club officers
"I wasn't completely sure how everything was going to turn out. At first I wasn't sure if we would have the same momentum, especially since two of the French classes have never done it before," President Cynthia Hu (12) said. "However, seeing how hard everyone worked — I worked — I was very confident with the outcome."
On the enrichment side of the spectrum, French Club Advisor Madame Cayla agrees that both the preparation and outcome of the event exceeded her expectations.
"All students very involved. Before the event, people could decide which area they would want to help in, an area where they would really shine, and I feel like everyone had a chance at that, which made me really happy," Madame Cayla said. " [Mardi Gras is an] excellent outreach event where we share so much. By doing Mardi Gras on the topic of French speaking countries, there was really this sense of 'Ah! People actually speak French in Madagascar and in Vietnam!'"
Her thoughts were aligned with participants from other non-French speaking classes as well.  
"You can kind of see the link, like how Spanish culture spread over several different continents. It's cool to see how French culture is unique and integrated over many different places," Spanish student Isha Bhagavatula (11) said. "I didn't know Mardi gras was an event that people participated in to be closer to God, I just assumed that it was just a fun celebration."
In spite of a few complications and doubtful expectations, this year's Mardi gras festivities was a success, eclipsing the celebrations in past years.  
About the Contributor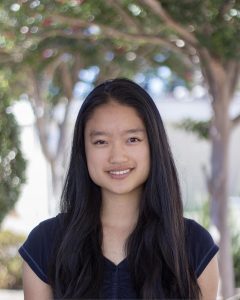 Elaine Chan, Editor-in-Chief
Elaine (12) has been a staff writer on
The Voice
for three years, was previously student life editor, and is currently c0-Editor-in-Chief. She particularly enjoys creating aesthetic layouts on indesign and interviewing people for articles.  In her free time, Elaine enjoys competitive dancing and traveling with her family.