Senior Jennie Gai Wins Team Gold at the 2018 Youth Olympic Games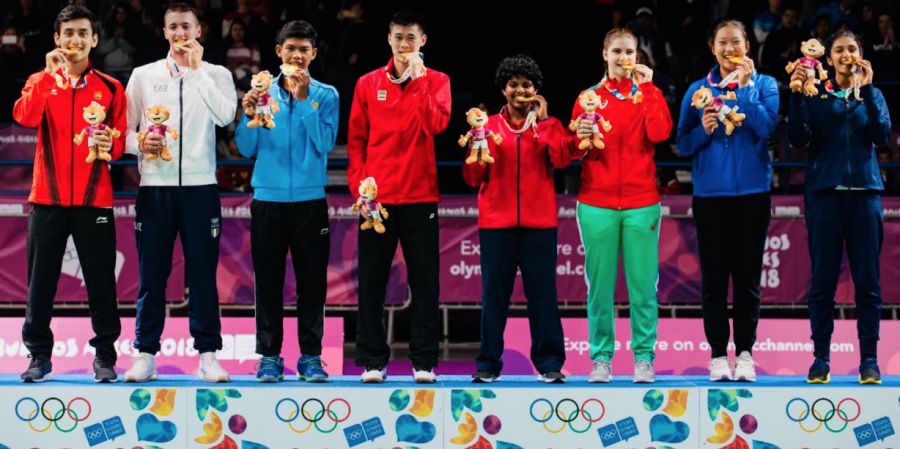 In April of earlier this year, Jennie Gai became the first and only American badminton player since 2010 to qualify for the 2018 Youth Olympic Games. Six months later, Jennie returns from Buenos Aires as a YOG individual event quarter finalist with a team event gold medal in tow.
The Youth Olympic Games spanned from Oct. 6 to Oct. 18. The badminton events were mostly concentrated in the first week, from Oct. 7 to Oct. 12, with individual event matches in the morning and mixed team events in the evening. Shortly after the attending the opening ceremony, Jennie tackled her first round at 9 AM the next morning and won her first preliminary match right off the bat. Ultimately, as the first American to ever reach quarter finals in badminton at the Youth Olympic Games, Jennie lost her final match 21-16, 21-18.
"[During the match], I was really excited, but I tried not to put too many expectations on myself," said Gai. "Obviously I wanted to win, but I was also really excited to meet new people."
The team event gave Jennie the opportunity to do just that. The Badminton Mixed Team Event consists of 5 events: women's singles and doubles, men's singles and doubles, and mixed doubles. Eight teams of 8 players (from different countries) are selected by the Olympic Committee based on ranking. Each event competes twice in 10 rounds of 11 points, and whichever team reaches 110 points first wins. Jennie's team, Team Alpha, bonded quickly. With each progressive training session, hang-out, meal, and elimination round together, that bond only tightened.
"Obviously when you're in the team event you're cheering for your team," said Gai. "We were the only team that all spoke the same language and had a team cheer."
The competition still proved tough. During the last few days, Jennie's team faced tough competition, especially in the mixed team semifinal round.
"We were really scared, but ironically, we ended up beating them by the highest gap," said Gai. "I think we probably took them too seriously."
In the Mixed Team final, the score fluctuated between an 11-point and 2-point gap. Team Alpha was eventually able to widen that gap, win the final point, and capture gold.
"The last round was like a heart attack. I was really scared because I didn't know if we could win or not," said Gai. "When we won, it didn't hit me at first, but as we were doing the award ceremony, I thought 'Oh my gosh, this is real!' It was an awesome feeling."
The aftermath of the win was both ecstatic and bittersweet. After a celebratory cake fight, half of Jennie's team left on the next red-eye back to their home countries. The following week, she had the opportunity to interact with people of different cultures and her American roommates who were of all different athletic disciplines: table tennis, gymnastics, diving, archery, golf, and equestrian.
Jennie, who is currently ranked 16th for Juniors and 124th for Seniors in the world, originally didn't plan on trying out for Youth Olympic Games until early February.
"I really didn't think too much about it before, but once I realized that it was actually achievable, I thought it would be a great experience."
After qualifying for YOG in April, Jennie trained intensively during the summer at a badminton training center in Indonesia, taking breaks to compete at US Open, Canada Open, Singapore Open, Japan Open, Vietnam Open, and International Mexicano.
As a full-time Irvington student, Jennie obviously has to deal with the same struggles as the rest of her senior class—college applications, multiple AP classes, and QUEST to name a few. However, Jennie still managed to keep up at international senior competitions. During these competitions, Jennie had the opportunity to play the top in her sport such as Li Xuerui, Olympic Gold Medalist from the 2012 London Olympics and Sayaka Sato, ranked 13th in the world. Although she lost these matches, the margin in which she lost these matches, 17-21 against Sato and 17-21 against Li, was a good confidence boost for Jennie.
"I didn't necessarily have high expectations of myself before, but after [these competitions], I realized I could still keep up with Asian athletes even though they train more and have stricter training schedules."
Like any other elite athlete, Jennie has dealt with her fair share of injuries. In middle school, Jennie wore a knee brace on and off to deal with growing pains in her knees before eventually getting used to it. She also continued to train and compete after a sprained ankle injury last year.
"It doesn't affect my game that much, and I think as an athlete, you kind of just learn to deal with the pain and accept that it won't ever fully be okay."
For now, although there is no badminton recruiting in American colleges, Jennie plans to continue her badminton career into college where she will hopefully have more time to train. As far as the Olympic Games, Jennie thinks that more experience training and experience under her belt will give her a greater chance of qualifying.
"I definitely want to try for the 2020 games, but I think I honestly have a greater chance in 2024." said Gai.
At every milestone, Jennie credits her parent's support as part of her success, especially during these Youth Olympic Games.
"My dad was too scared to watch, but my mom would wake up at 5 AM [back in the US] to watch the game. They were pretty excited."
Any pressure Jennie feels on the court comes mostly from herself.
"I think [I play] mostly because of self motivation," said Gai. "I mean my parents and my coaches support me, but if I didn't want it, then why would I train?"
About the Writer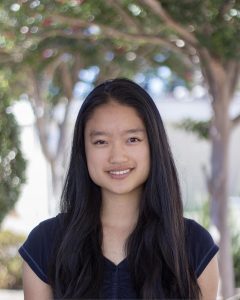 Elaine Chan, Editor-in-Chief
Elaine (12) has been a staff writer on
The Voice
for three years, was previously student life editor, and is currently c0-Editor-in-Chief. She particularly enjoys creating aesthetic layouts on indesign and interviewing people for articles.  In her free time, Elaine enjoys competitive dancing and traveling with her family.