FBLA Minicon Is A Success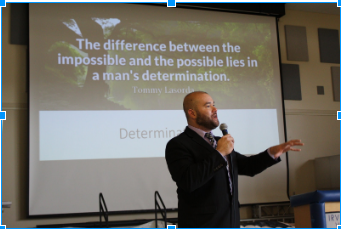 On Dec. 15, 2018, Irvington FBLA (Future Business Leaders Of America) hosted its annual Minicon for Irvington, American, and Dougherty Valley High students. During the five-hour event, FBLA held a mock business conference that aimed to help students learn and apply a variety of business skills through objective tests, role plays, and workshops.
The day began with an opening ceremony, in which guest speaker Zachariah Ballinger, Amazon's best-selling author of The Hot Seat: How to Meet the Challenge of a New Era in Job Interviewing, gave an hour-long inspirational speech to FBLA students about entrepreneurship and leadership. Afterwards, Irvington FBLA provided bagels for breakfast.
Next, FBLA students were divided into two flights, and would switch off between hour-long activities. One flight of students would take their objective tests or roleplays in the 200s wing, while the other would participate in an entrepreneurial "Shark Tank" workshop in the cafeteria, in which students would create and present their own business idea or product. FBLA members were able to choose their own tests or roleplays beforehand. Tests were split into four main clusters: Business Administration/Law, Finance/Economics, Marketing/Entrepreneurship, and Information Technology, while roleplays had some more specialized events such as Sports and Entertainment Management and Hospitality Management. After both flights finished their activities, students enjoyed pizza for lunch.
Finally, at 1 p.m., FBLA members gathered in the cafeteria for the closing ceremony, in which the top 3 individuals/teams in each event were awarded with a medal.
The 2018 FBLA Minicon was the largest Minicon held in Irvington FBLA's inception, with 89 total members (Irvington, American, and Dougherty Valley) participating in the event. Minicon's success parallels Irvington FBLA's success as a chapter, with the club growing exponentially each year.
"Even though our club has ballooned from 30 to 150 members over the last four years, the camaraderie among members at Minicon made me appreciate how we will always be a family," Brian Wang (12), Irvington FBLA co-president, said.
Irvington FBLA hopes to continue this success into this year's Bay Section conference on February 9, 2019.
About the Writer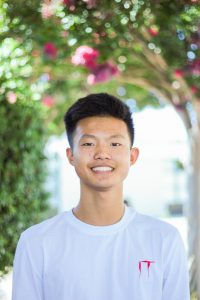 Michael Zhu, Sports editor
This is Michael's (12) second year on The Voice as the sports editor alongside Achintya. Michael stayed with The Voice because it truly does allow him to explore and understand the intricacies and enigmatic nature of the human condition. In his free time, Michael loves playing with his three cats and new kitten, having sunset picnics at waterfronts, and cooking dinner with his mom. His favorite tea is still jasmine.