Shrek: The Musical Hits the Right Notes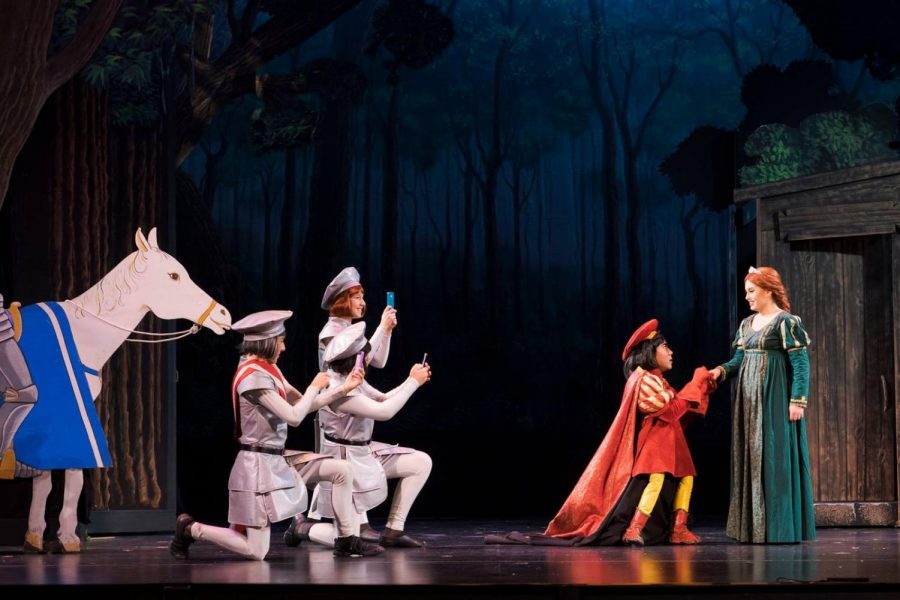 From the three little pigs to the Sugar Plum Fairy, the world of centuries'-old fairy tales is a peculiar one: familiar enough, but always fantastical and different each time. In the packed theatre in the Ohlone College Smith Center, these fairytale creature don't just come alive, but occupy the same stage: in fact, they occupy so much space that they're evicted from their homes, and forced to make do with a swamp. Mash this with cheeky pop culture references, and you have the state of affairs of Shrek the Musical.
Starstruck Theatre's latest offering Shrek the Musical, a youthful adaptation of the 2008 Broadway musical (in turn, adapted from the 2001 Oscar-winning film loosely based on William Steig's picture book), raised its curtain to eager audiences on the evening of Friday, Jan. 11. From senior citizens to five-year-olds, Fremont audiences tuned in to the three-hour musicals on the Friday and weekend evenings of Jan. 11 to 27.
Each performance came with its own "event," including audiences dressing up as their fairytale characters, wearing green for Shrek, and interacting with the cast. I attended the Friday, Jan. 18 performance, which featured expressive ASL interpreters to the right of the stage. However, the onstage spectacle often demanded my full attention; from acting and musicality to on-stage props and effects, Shrek the Musical delivered nothing short of a  quality production.
It's the best of adaptations: faithful to the movie in tone and theme, yet also complete with its own flair. In condensing the narrative, the production emphasized the fairytale characters and consequently, its overarching theme of inner beauty. "Gingy" the Gingerbread Man (a very adorable and outspoken Russell Lym) and Pinocchio, especially, took center stage to wonderfully comedic and touching effect. Which is not to overshadow the main storyline: our main players, of course, are very well-rounded and well-acted. The slightly crazed, but feisty and downright awesome Princess Fiona (a very impressive Anne Salgado, IHS alumna and acting student at Ohlone), the titular character Shrek (Irvington Conservatory Theatre's very own Nooran Rooen, a junior at IHS), and talkative Donkey (Diego China) played off each other with amazing on-stage chemistry. Finally, a sassy, hilarious villain in Lord Farquaad (Zarif Shahid maneuvering on his knees) rounded out a most entertaining show.
If there's one thing I have to complain about, though, it's the lengthy musical numbers that dragged out the narrative. I'm no strangers to musicals in film, especially in animated features, but I found the few instances of spoken dialogue very much a relief. While the production showcased some genuinely awe-inspiring vocal talent—the Dragon's (Ella Child) darker "Forever" comes to mind—some of the songs went on the cacophonous, not to mention the lengthy, side. Corny, family-friendly morals like embracing inner beauty can be touching, but not when constantly hammered down through repetitive power ballads. It's a bit like watching a lengthy holiday advert—with just a bit too much intense exuberance to handle in two large doses of 1.5 consecutive hours.
Still, there was just so much talent, and with plenty of comedy and a genuinely subversive narrative, carried through as a great first impression to on-stage musicals. The audience was especially responsive, and as the cast lined up for their final bows, I found myself standing up for them, too.
Rating: 4/5