Dandiya Night Proven to be a Huge Success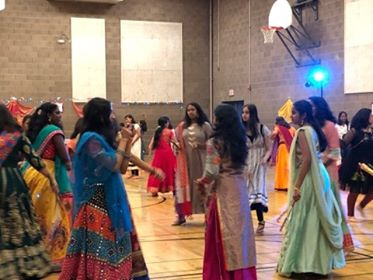 PTSA collaborated with Students of PTSA to host Irvington's Dandiya Night on October 25 from 6-9 in the evening. The event, which aimed to bring both desi and non-desi families in the community together so that they could experience Indian culture and have fun, was a success. It brought in about 100 attendees, consisting of a mix of students and parents from multiple schools. 
The biggest challenge in organizing the event was booking the facilities. As a result, PTSA President Fahria Khan worked with Mr. Willer and Ms. Stone to reserve the Small Gym ahead of time in September. This paved the way for publicity by both students and adults throughout October, posting the flyers to Facebook and taping them to walls around campus. They also worked together to plan the food, music, and decoration that would be present at the event. 
A good mix of students and parents attended, although most teenagers arrived past 7 PM. The event played both cultural garba and raas music, along with trending Bollywood songs so that people could enjoy both modern and traditional dances. Several attendees were able to take photographs at the event using the decorations and lights as backdrops. PTSA also sold rice, chole, pizza, and samosas for low prices, which several attendees were happy about.
Overall, PTSA received generally good remarks from the students and the parents. "Most of our attendees were moms who came with their daughters," said Ms. Khan.  "From the feedback I've received, it seems as though everyone really liked the ambience we created."
Siya Bhadoria (10) attended Dandiya Night because her friends were going. She remarked, "I really liked how everyone did dandiya together in the gym. I even got to learn a few steps that hopefully I'll remember for a long time." 
PTSA hopes to host Dandiya Night in future years as well. However, for next year, Mrs. Khan would like to move the start of the event one hour later so that parents and children can have more time to dance and talk with friends. She also now has a better idea of how much food to order and what music the crowd tends to like. Riya Mhatre added how Students of PTSA may publicize more next year to engage a larger portion of Irvington's student body. 
Dandiya Night was a huge success because it saw a large portion of attendees and received good feedback. PTSA and Students of PTSA efficiently organized an event that not only highlighted Indian culture, but also reflected Irvington's efforts to unite diverse communities. 
About the Writer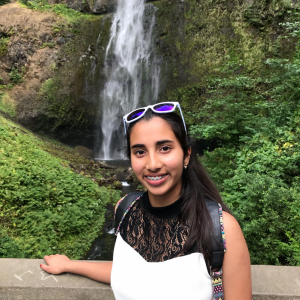 Shivangi Gupta, Entertainment Editor
A rising senior at Irvington, Shivangi (12) is thrilled to be the co-entertainment editor alongside her friend Kritika Sachar (12) in her second  year at
The Voice
. Having an addiction to cheesy romcoms and free-form dancing, the arts and anything creative (or bizarrely unique) catch her eye. She loves food and considers herself a self-proclaimed "broke-but-still-a-foodie" kinda girl.  Definitely reach out to her on Instagram (@shivangig24) or snapchat (@shivangig24) since she loves meeting new people and making worthwhile friends!