Striving for Success: Irvington's Football Team Looks Ahead
The Irvington High School Football team had a league record of 1-5 and an overall record of 1-9. Despite not having the best record, the team formed a close-knit relationship. 
"Just being there with my teammates, every moment is fun when you're surrounded by your brothers," said quarterback Julian Montelongo (11). 
However, this does not mean that the team did not face hardships. They had a rocky start with injured players in an already small team with only 23 players, compared to other schools that have close to 60. 
"We had a lot of injuries coming into the season. We were down guys but it is what it is," says captain Alqasim Elnaggar (11). 
"What's more important is that all of our guys just went up there and battled no matter who we were playing, if they were bigger than us, if they were better than us, if they were stronger than us, none of us gave up. And that was the story throughout the whole season and we were able to come out with a win against American."
The team had solid and clear expectations before the season started: getting into the playoffs. Sadly, things did not go as planned. However, the team has no intention of giving up anytime soon.
"We're just going to keep doing what we're doing. We trust our coaches. We're going to prepare more during the offseason starting January and we're just going to keep building our program," says Elnaggar.
With the season coming to a close, the Irvington High School Football team is further motivated to reach further heights with team spirit and undying passion for their sport.
About the Writer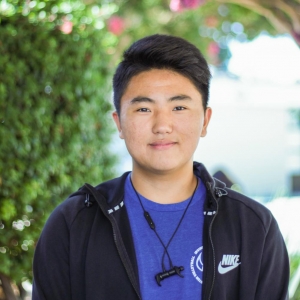 Justin Kim, Graphics Editor
Justin is the graphics editor for Volume 29. It's his third year in the newspaper and all he's done is draw some stuff and make podcasts with his friend Prahalad. Currently, he's worried how he'll make graphics without a drawing tablet.