Irvington Teachers Provide Accommodations for Students [Updated 9PM 3/16]
Irvington High School will be shut down from Mar. 17 to Apr. 7 in accordance with the "shelter in place" order announced by Alameda County, leaving a sizable portion of the student population without free or reduced-price lunches and high-speed internet access in order to finish school work. Due to the substantial burden this poses for many in the district, the Irvington staff has been motivated to come forward and set up various ways for students to access meals, toiletries, computers, and internet, but the new orders from the county have rendered some of these methods impossible.
Irvington's food pantry, established four years ago by Ms. Jennifer Olson and currently run by Ms. Michele Hartmangruber, was to be open to any student that needed meals, ingredients, or toiletries. The pantry was stocked with a wide variety of items, from pasta to toothbrushes, and was meant to be open on Mar. 17 between 8 am-3 pm in Room 27. However, due to the "shelter in place" policies, students will be unable to access this pantry.
"No [students can access Irvington as] all FUSD schools and offices are closed until April 7," said Irvington Principal Amanda Melsby when asked about the availability of nutrition services for low-income students.
However, a partnership between Fremont Unified Student Store (FUSS, a 501(c)(3) non profit) and Subway to provide free lunches to impacted students is still in effect and is not impacted by Alameda's "shelter in place" order. Participating locations will remain open.
The "shelter in place" order also affects the operation Irvington teacher Henry Fung is spearheading, focused on providing computers to students in need with help from other teachers, such as Irvington Librarian, Allyson McAuley.
"We know from district data that we have about 400 of those kids who are on free or reduced lunch and don't have computers," said Ms. McAuley. "From what I know, we've distributed 30 computers to kids already. The ones I donated are from the library and Ms. Burton donated PCs."
This chromebook checkout policy will similarly be restricted under the new directives, and such, over 350 students at Irvington will likely have limited/no access to computers which can reliably connect to the internet.
However, a current effort lead by Ms. Olson could increase free access to high speed internet.
"People who don't have wifi can fill out an application and get two months of free Comcast wifi," said Ms. Olson. "If you are eligible for housing assistance, Medicaid, SNAP, or SSI, don't have any outstanding debt with Comcast, and you live near [an] area where Comcast service is available [then you can access it]."
Students that meet those qualifications can visit the following website for free internet for two months: https://apply.internetessentials.com/.
If you would like to donate to FUSD's ongoing efforts to provide low-income students with lunches, you can donate at
https://www.fuss4schools.org/lunch-sandwiches-for-fusd-students-3-16-2020-3-27-2020/.
About the Writer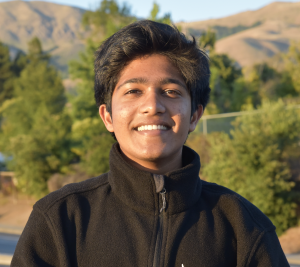 Darsh Singhania, Opinions Editor
Darsh Singhania (12) will be this year's Co-Opinions Editor and is looking forward to crushing the souls of all his writers. He is excited to start writing and editing opinions on a variety of topics including COVID-19 and its effects on the school and people across the world. In his free time, Darsh loves to bike, read, and roast people in debate club.