FUSD Students Blow Science Fair Competitors Away with "Brave the Crave"
On March 7th, IHS student Suyash Lakhmani (9) and his partner, MSJHS student Aria Lakhmani (11), presented their project "Brave the Crave," a cognitive behavioral therapy app to helps teens combat their vaping addiction, at the Alameda County Science Fair. After months of hard work, they were able to win the Grand Prize and qualified for the International Science and Engineering Fair.
The team decided on this project after observing their peers succumb to vaping addictions without realizing the harmful side effects it could have on their short term and long term health. Their app applies techniques from cognitive behavioral therapy, a clinically proven treatment that is one of the most commonly used to address substance abuse disorders. However, this form of therapy has only been used for other drug and alcohol addictions, so the pair decided to create an app that utilizes this therapy to specifically treat vaping addictions.
"First, [the app] helps teens identify their trigger, or their reason, for vaping and then it helps them transition to a healthier alternative activity in response to that trigger," said Aria Lakhmani. "The principles behind cognitive behavioral therapy essentially are that you have to find out what's really driving your issue and make changes in your lifestyle to change those behavioral patterns, so we just applied this to the issue of vaping."
They found that cognitive behavioral therapy was indeed useful for stopping a vaping addiction when they tested the app among 20 participants in their community that were struggling with an e-cigarette addiction.
"We saw that there was an increase in their resistance to vape and a number of them had gone 2 or more days vape free at the end of the trial," said Aria Lakhmani.
After witnessing this success, the team has made more goals to broaden their impact, which they hope will reduce the teen vaping issue globally.
"Right now the CDC and FDA have declared teen vaping as an epidemic with 1 in 5 highschoolers in the nation vaping," said Suyash Lakhmani. "Our goal is to decrease this number from the epidemic levels. And now I think with our results and if we continue making our app better, we can possibly achieve it."
Another mentioned goal was to have more research and data centered around vaping, due to the lack of information about why teens vape and what can efficiently help them.
"With smoking there's a lot of research surrounding it, so the numbers are going downwards while for teen vaping they're going upwards," said Aria Lakhmani, "One of our goals is to collect data on our app and share this data with local health centers to help them create customizable teen quit programs, so that at the end of the day we can play that part in decreasing the epidemic."
Although the International Science Fair was canceled due to COVID-19, both siblings want to continue expanding their project to achieve their goal of reducing the number of vaping addictions worldwide. With the observed success so far, it is likely that their effort will continue making advances in this field.
About the Contributor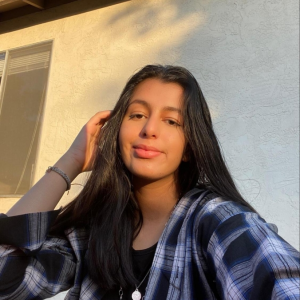 Megan Dhingra, Student Life Editor
Megan Dhingra (12) is a Student Life Editor and will be entering her third year with the IHS Voice. She enjoys going on short road trips, preferably to San Jose, because it is more interesting there. She likes to binge-watch crime TV shows and kdrama in her free time. Her IG is @megandhingra.