Youth Alive Christian Club Keeps Students Connected over Quarantine
The Irvington's Youth Alive Christian Club has made an inspiring effort to keep students connected in fellowship with one another during quarantine with virtual activities. In these unorthodox times, their efforts have given members a feeling of friendship and normalcy in an otherwise isolating situation.
"We were planning on having an event week from March 23 to March 27, with guest speakers and food, and school was closed basically a week before it," said Sarah Tai (11), copresident of Youth Alive. Because of the state-wide shutdown, the officer team had to find creative alternatives to shift the "Made for More" event week virtually.
"We didn't have a way to hold our events online, so instead we had a new activity for our club members- we asked them to talk to one new person each day of that week and start a conversation about God," says Tai. "The purpose of the event was to share the message that everyone has a purpose and is called to respond to God's grace. It ended up working really well, and a lot of our club members got to have really cool conversations."
The event was very successful, reaching over 100 people through e-evangelism throughout the week. Club attendance has also grown since quarantine began, due to interest in these virtual events.
The heart of Youth Alive is fellowship and gathering, which they have continued to foster despite social distancing. Members still take part in weekly small group meetings, where they pray, discuss their faith, read the Bible, and socialize with one another. These meetings are often member's favorite part of the week, and small group leaders are finding creative ways to keep their members engaged. Certain small group leaders play games, share weekly reflections, and encourage members to be involved in discussions. Every small group meeting ends with prayer, and each member is partnered up with a "prayer buddy" who will pray for them that week.
"We're still trying to grow in our faith and spread the good news of what Jesus did for us!" said Tai. "Quarantine isn't gonna stop us."
About the Writer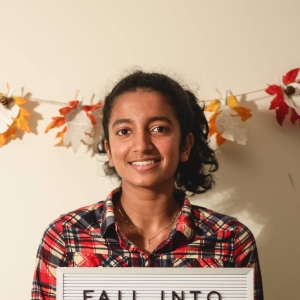 Rachel Kavalakatt, Humans of Irvington High Editor
Rachel Kavalakatt (12) is excited to be Humans of Irvington High Editor at the Irvington Voice. She started Humans of Irvington High two years ago with the mission to capture the heart of the Irvington community through telling personal student stories. Her passion for storytelling and connecting with others immersed her in the world of journalism, and she has never looked back since! Rachel's personality traits include being Canadian, spontaneous renditions of
Hamilton: An American Musical
, and an obsession with spoken word poetry.