Irvington Says "Hello" At Their First Virtual Rally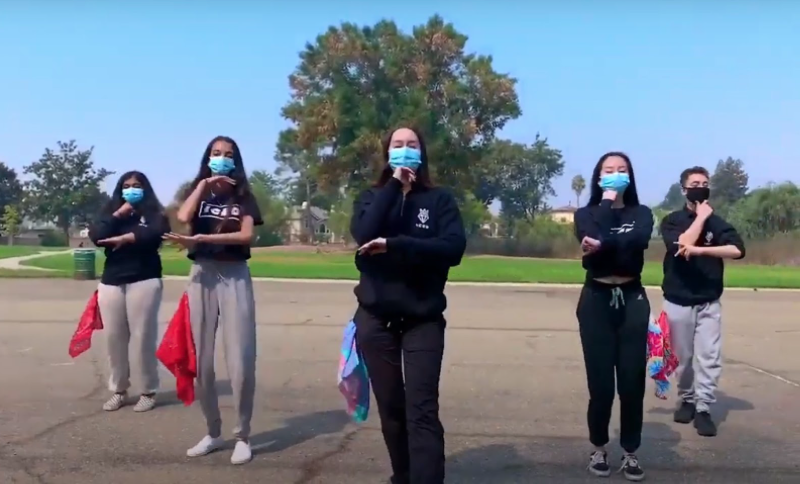 Known for introducing the freshmen to Irvington High School and serving as a milestone for seniors, the Hello Rally is the first rally that always takes place within the first couple weeks of the new school year. This year, the Hello Rally, an eight minute video with a tropical theme, premiered on YouTube on August 28 at 2:30 PM.
It began with a message from the rally commissioner, Rami Saad (12), advising everyone to stay safe and introducing the first act. Saad continued to introduce each act after every performance. The first act was a video of a cheerleading performance from the previous school year. In the big gym, the cheerleaders did numerous tumbling tricks as music played in the background. For the second act, Ampelia Gomez (11) sang the National Anthem. This great act was followed by a dance performance from Indopak's Sitaare, a dance group that combines western styles of dancing with traditional Indian dances, from January of the last school year. The video featured Indopak members dancing to upbeat Indian music while wearing black legging and a red or blue top with gold detailing down the side. This was followed by Irvington's infamous tradition of having freshmen, sophomores, juniors, and seniors chant "I-H-S Seniors." Like a normal rally, Rami prompted everyone by telling each grade what to say. Nine students from each class chanted their respective letter in a video. Afterwards, the final act was a dance by members of ICED, a club that holds dance workshops and dances in rallies with original choreography to popular music. They performed a hip-hop style dance to "Like That" by Doja Cat. The video was filmed in a park, and all of the members were wearing masks. The dancing was phenomenal and the transitions throughout the video made it interesting to watch as well.
To prepare the rally, Rami and a team of students planned how they wanted the video to look like and chose videos that were submitted for the audition. One issue that they had was that not a lot of people auditioned.
"I feel like the biggest issues we faced were time and getting acts," said Saad. "There was a lack of people willing to participate and then the planning process itself was pushed off for a long time. Once again because of Corona, I feel like people are a little bit more hesitant to want to participate and submit acts, but we are working hard to keep the rallies fresh and exciting to watch despite our circumstances."
Indopak also faced difficulties due to not being able to meet in person to create and film a new dance before the submission deadline for the audition.
"If we do plan on future rallies," explained the co president of Indopak, Anushka Saha (12), "I believe we will record a new dance with fewer members at a time in the video and with social distancing precautions. It is mostly dependent on who is comfortable with meeting in person."
On the other hand, members of ICED expressed that they didn't find it particularly difficult creating their video, and for future rallies, they plan to film multiple groups dancing as this will allow more people to participate.
"Since online practice is more convenient than practice in person," said co-president of ICED, Grace Yan (12), "it wasn't as difficult to get everyone together. Our officers are very talented in picking up moves fast, especially with the teaching help of our choreographers. It was difficult to practice formations though."
The video now has 1,300 views in addition to 92 likes and 39 dislikes. The cheerleading and Indopak videos were from a while ago, both were slightly blurry, and there was some background noise in the cheerleading video that was distracting, but it is understandable that these groups did not have the opportunity to get together. Hopefully the next virtual rally will be a bit longer and have more acts. Overall, considering the circumstances and time constraint, the team that put the rally together did a good job.