SRO Task Force to Look Over Need for SROs
On Jul. 29, FUSD Trustees decided to create a task force to discuss the need for School Resource Officers (SROs) as well as their pay. SROs are police officers meant to protect students and school campuses.
While SROs have been a part of FUSD schools since 1998, FUSD board members began questioning the need for SROs in light of the pandemic.
Transitioning into distance learning has lessened the need for officers on campus. However, while free of some usual responsibilities, SROs have still had to respond to bomb threats on school sites. Several staff members work from school and keeping them safe is a top priority for SROs. Additionally, SROs are conducting student wellness checks under the guidance of school counselors.
As of August, SROs are still being paid by the City of Fremont, but not Fremont's school district. Another cause for the reconsideration is an SRO's ability to carry assault weapons in schools. In a recent school forum discussion, mayoral candidate Naz Mahika Khan and city council candidate Dolev Gandler have expressed concerns over SROs and their ability to carry assault weapons.
"I know [that SROs] do carry a weapon as part of their uniform," stated Greg Bailey, director of FUSD student services. "I would be in support of that, but assault rifles [are generally] locked in their cars."
These various concerns and the recent pandemic led to the need for an SRO Task Force. The task force comprises a student and parent from each of Fremont's six high schools, five community members, two non-voting board members, as well as a non-voting facilitator (Greg Bailey). The task force will have three meetings on September 24, October 8, and October 29 via Zoom, which will be recorded and shared with the public on the FUSD website.
SURFBoardE, the student group on the Fremont Board of Education, was responsible for finding students for the SRO Task Force.
"Our goal was to find open minded people who could really contribute and provide a interesting perspective to the task force in general," said SURFBoardE member Selina Song (10). "Because this is a very controversial topic within our community right now, there are a lot of different opinions about it. So we made sure to not judge the applicant based on how strong their opinion is or what their opinion was, but on how they would use that opinion to really contribute a new perspective to the task force and provide a more high quality discussion."
Allyna Huang (10), Kennedy High School's student representative, describes SROs as people students have not particularly interacted with. Through the meetings, she plans on prioritizing student safety and comfort.
On the other hand, Charan Rameshkumar (10) Washington High School's student representative hopes to keep the SRO program running. Fremont currently has six different SROs for each of the different high schools and surrounding areas. According to Bailey, SROs help spread awareness on active shooters and lockdown drills. They also monitor sporting events, special events, dances, and graduations. SROs also assist in mental health incidents and, in some cases, can put a person on a 5150 hold. During a 5150, the person is put under temporary psychiatric care after presenting a danger to themselves or the people around them.
"Even when they were on duty, the [SROs would] stop by to talk to us," said Rameshkumar, hoping to strengthen this relationship through a cost-effective solution. "I was thinking SROs could interact with the community through workshops on Zoom after school and maybe during [their] work [hours] since school sites do [not need them much now]."
About the Contributor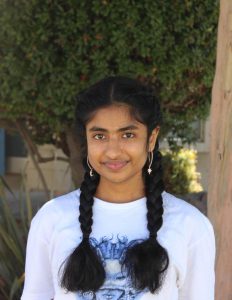 Sadhana Chari, Editor in Chief/Student Life Editor
Sadhana (12) is excited to be back for her third year at the Voice. She loves traveling, reading, and baking really badly. If you can't find her doing any of those things, she's probably aggressively playing 2048 - 3d version to replace her solitaire and cut the rope addictions.