TeaZenTea – Pretty but Pricey
On July 31st, TeaZenTea opened its second location in the Mission San Jose area of Fremont. Two boba tea lovers founded TeaZenTea back in 2017 to spread love, passion, and positivity to customers and hoped that their shop could be a peaceful place for people to enjoy delicious drinks. TeaZenTea claims to use the most premium tea and milk to make every single boba cup.
Located in a plaza next to Ohlone College, TeaZenTea serves unique tea drinks such as cream cheese, matcha, fruit tea, butterfly tea, and more. They also sell smoothies, slushies, coffee, and mochi ice cream. The starting price for their drinks is $4.50, and they charge an additional fifty cents for toppings such as honey boba, coffee jelly, rainbow jelly, and popping mango. Although all the drinks come in one available size, customers can adjust sugar and ice levels.
I visited TeaZenTea for the first time on October 15. The boba shop faced Mission Blvd, so I parked by the side of the sidewalk. There's a parking lot behind the plaza, which is a better place to park during rush hour. When I walked into TeaZenTea, the first thing I noticed were cardboard cutouts of Kpop stars. Back in late August, TeaZenTea hosted a to-go cafe event with the fanbase Bay Area BTSxARMY to celebrate Jungkook and RM, so Kpop decorations filled the whole shop, from letter balloons spelling out the name of a Kpop star to mini pictures of them strung along a string. The boba shop also had many plants, pretty lighting, and many TV screens for menus. Even though indoor seating is currently not allowed, I can tell that TeaZenTea is a comfortable place that students and customers will probably relax or do work in after Covid-19 ends.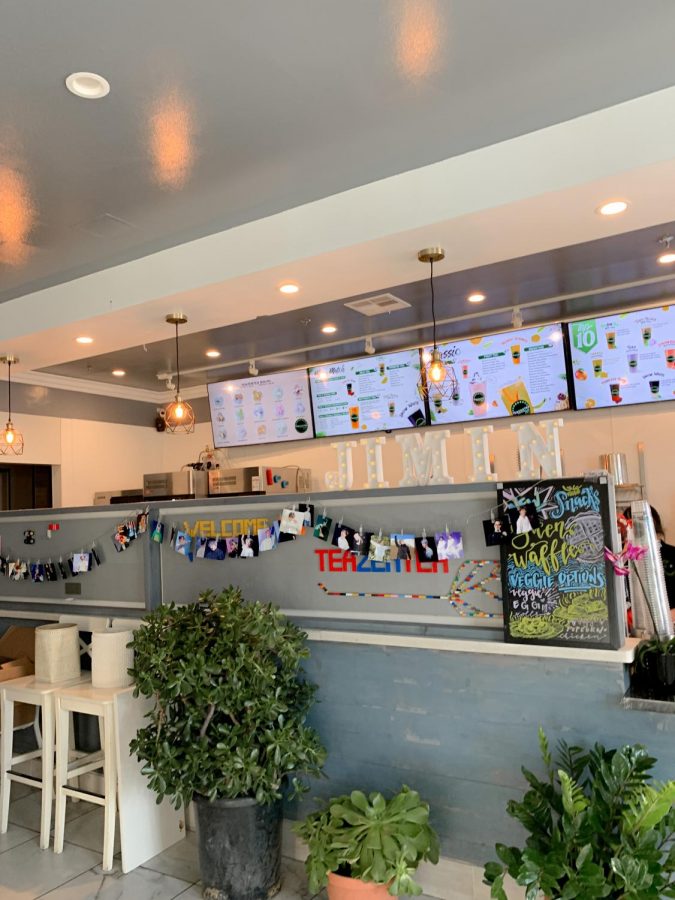 I decided to order one of TeaZenTea's most popular and expensive drinks, a $6 Mango Matcha Latte with honey boba, 50% sugar, and 50% ice. I have only tried a strawberry matcha latte before, so I expected the drink to taste similar to that except with a mango flavor to it. The drink was aesthetic, with green matcha at the top, orange-color mango jam on the bottom, and milk in between. The mango jam ended up being very sweet and strong, and it overpowered the matcha flavor. Therefore, the Mango Matcha Latte tasted more like mango-flavored milk. The boba had a very soft, chewy texture that I enjoyed. With the boba, mango jam, and the drink itself adding their own type of sweetness, the drink tasted quite sugary, but luckily the ice melted, creating just the right amount of sweetness.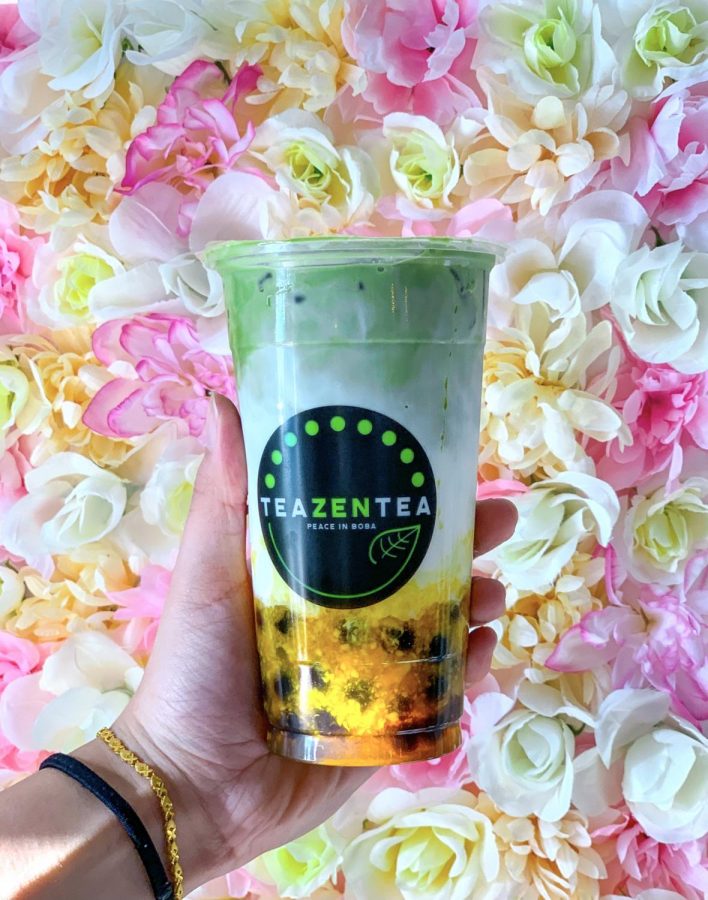 Overall, I would rate TeaZenTea 4 out of 5 stars. The workers welcomed guests in and were patient and kind when I ordered. They even made the drink very quickly. Even though I only tried one item from their menu, the drink tasted pretty good despite the lack of matcha flavor, so I would still come back to TeaZeTea again to try their other drinks.
About the Contributor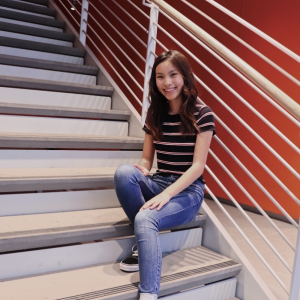 Joy Kuo, Student Life Editor
Joy Kuo (12) is joyful to be the Student Life Editor for her second year in Irvington Voice. Joy joined Irvington Voice because she enjoys engaging with the Irvington community and sharing peoples' stories. In her free time, Joy loves to take photos, watch kdramas, obsess over skincare, and drink Jasmine Milk Tea with boba (30% sugar + no ice). Find her on Instagram @jkjoykuo