Umi Bubble Tea – Worth Trying When Nearby
In September, a new boba shop called Umi Bubble Tea opened in the Mission San Jose area of Fremont, right across Ohlone College. Their menu offers a variety of trendy drinks from fruit teas to milk teas. Umi strives to provide high-quality drinks by using only the finest ingredients such as High Mountain Tea from Taiwan and local farm fresh fruit and milk. Most of their drinks are 22 ounces, start at $4.50, and have a default sweetness of 25%, which can be adjusted along with the percentage of ice. Customers can further customize their drinks by choosing from Umi's wide selection of toppings like sea salt cheese cream, honey boa, matcha boba, red bean, lychee jelly, and many more. For the lactose-intolerant drinkers, Umi offers fresh milk drinks substituted with oat milk for fifty cents extra. When it comes to savory snacks, Umi serves popcorn chicken with house sweet chili sauce, shrimp katsu, and potato croquette with corn that all range from $4.75 to $7.00.
The boba shop is located in a small plaza with a good amount of parking, but customers can also get to Umi by walking down the steps from the sidewalk next to Mission Blvd. There is an ordering station decorated with cute drink signs and a branded sunshade. Umi does not have indoor seating since it is connected to Shumi Ramen House.
For my first drink, I ordered my go-to Jasmine Milk Tea with honey boba, 25% sugar, and no ice. Since I have gotten jasmine at every boba place I have been to, I had high expectations, which Umi met. Their jasmine had a nice taste to it; the tea flavor was not too strong or too weak, so the balance between the tea and milk was perfect. The honey boba had a chewy, smooth texture and had a sweet, syrupy flavor that I really liked. With 25% sugar and no ice, my drink was not very sweet, which I prefer. I also enjoyed the fact that their Jasmine Milk Tea includes honey boba in it, so my drink came out to be $4.75, less than other places that usually charge over $5 for a basic milk tea.
For the next drink, I decided to try one of Umi's matcha options. I ordered the Uji Matcha Latte with honey boba, 25% sugar, and 50% ice. Even though Umi claims to use 100% Uji Matcha from Kyoto, Uji Area, the taste of the matcha was faint as the milk greatly overpowered it. The drink is aesthetically pleasing, but it tasted very powdery. There were a lot more matcha clumps in the drink compared to other matcha lattes I've had.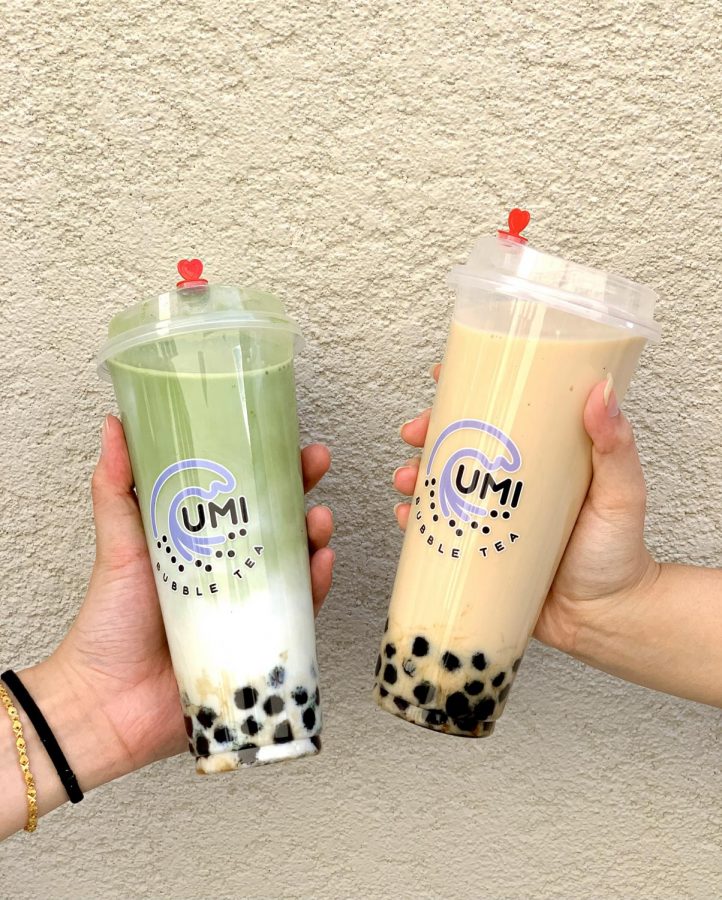 Lastly, I decided to get Umi's recommended drink, Roasted Brown Sugar Latte with honey boba, 50% sugar, and 50% ice. After the first sip, I realized that the drink was too sweet, so I would need to get a lower sugar percentage next time. This specialty drink came in 16 ounces, which is smaller than most of Umi's other beverages, but it did have a good ratio of cream to milk. Since Umi sets a high price of $5.50, I felt that other boba shops deliver the same quality, or even better, for their brown sugar lattes at a cheaper price.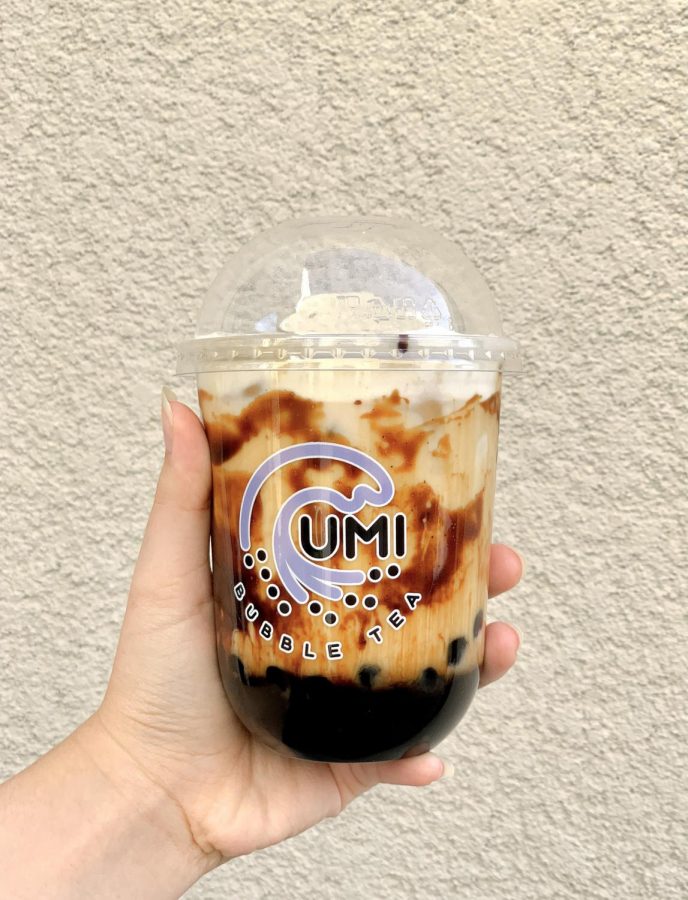 Their service was relatively good and didn't take too long to make the drinks, especially for only one staff taking orders and another being in the kitchen. The staff also made sure to wear masks, and Umi had a window that separated the customers and staff well.
Overall, I give Umi Bubble Tea 4 out of 5 stars. All their drinks look pretty, but out of the drinks I have tried, I would only buy their jasmine milk tea again. If you live near the Mission San Jose area, Umi is a decent place to satisfy your boba cravings.
About the Contributor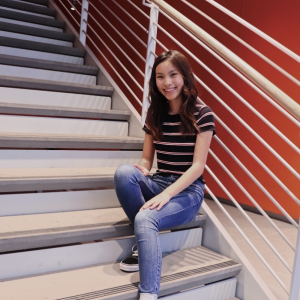 Joy Kuo, Student Life Editor
Joy Kuo (12) is joyful to be the Student Life Editor for her second year in Irvington Voice. Joy joined Irvington Voice because she enjoys engaging with the Irvington community and sharing peoples' stories. In her free time, Joy loves to take photos, watch kdramas, obsess over skincare, and drink Jasmine Milk Tea with boba (30% sugar + no ice). Find her on Instagram @jkjoykuo