IHS's Love Vikings spirit week continues, despite COVID restrictions
While the ongoing pandemic has resulted in significant changes being made to every facet of Irvington, one tradition remains untouched. The Irvington "Love Vikings" spirit week, occurred in the week of Oct. 12-16, without much change from how it had previously been held. The spirit week is a recurring IHS tradition, held mainly to encourage students to love themselves, their family and friends, and the world around them. The "Love Vikings" rally was originally scheduled to occur late in the 2019-2020 year, but was delayed out of respect to the ongoing Black Lives Matter events occurring across the country.
Students participating in this spirit week had to make a post on their Instagram accounts each day, to demonstrate their appreciation for themselves and the world around them. On Monday, the theme was the environment, Tuesday was the community, Wednesday was wildlife, Thursday was friends, and Friday was self-love.
Because most of the spirits week's activities can be done online, it was easier to make the transition to this year's virtual programs. The biggest challenge was figuring out how to hold the rally online; it was later streamed on a Youtube live session afterschool. The video premiered on Youtube on Friday, October 16. Since it was difficult to have groups audition for acts, the rally team reached out to IHS clubs to find performers. Dance groups, such as ICED, recorded their acts beforehand. These videos of the actual acts were interspersed with clips of the class officers and rally commissioners playing Among Us, talking about self love, and the Vikings' strength throughout 2020.
"For me," says An Truong (11), the rally was a great reminder of how resilient and amazing IHS vikings are."
Although it was difficult adjusting online, the virtual rallies and events definitely provided more accessibility to students. Rather than having to drive across Fremont for an event, students could simply log onto a Zoom meeting. This aspect of online learning is exciting for many ASG members, such as Nosheen Ullah (11) who hopes that, despite the hindrance to the rallies, students were still able to gain the same benefits of the spirit week that they would in person.
"I hope it helped people feel more connected," said Ullah, when discussing the more personal posts that people made, "especially the last one, because people got very vulnerable. At the end of the day, we just want to encourage unity in the community and bring a little positivity into peoples' lives."
About the Writer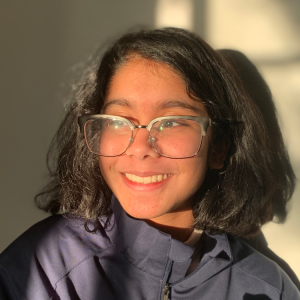 Geetika Mahajan, Humor Editor
Geetika (11) is this year's humor editor, which she owes to obsessively watching SNL as a middle schooler. Her hobbies include baking cakes at one AM, watching sitcoms, and befriending stray cats. In her free time, she can be found scrolling through zillow and apartments.com, getting emotionally attached to studios & lofts in New York City.