Irvington Chess Club Places in Inter-school Tournament
On Friday, Oct. 23, Irvington Chess Club participated in a tournament with eight other schools, placing first and third in the over 1400 mid-level rating division and over 900 novice rating division, respectively.
This competition was hosted through an online platform called chess.com, an internet chess server that allows people to play with anyone, anywhere. The officers of the eight schools that participated in this tournament used chess.com to create a Bay Area Chess leagues and encouraged all participants to join. A total of fifty-three students from multiple schools competed in a Swiss tournament consisting of five rounds with three-minute games each. In Swiss tournaments, players are paired with others who have won a similar number of games.
Chenyi Zhao (11), chess club secretary, was pleasantly surprised to learn that she tied first in the over 1400 rating division and received a $10 prize that was reserved for the first place winners in each rating division.
"I tied for first place, which was unexpected. I had a real tournament that had a 70-minute time control where I failed miserably," said Zhao, "I lost games where I should have won or drawn games that were lost. I honestly expected myself to be in the top 5, but I did not expect to be first."
Zhao found the online games to be exciting and fast-paced but still misses in-person tournaments.
"Although playing online makes the games slightly easier, I still prefer in-person tournaments, because just feeling the piece in my hand feels so familiar," said Zhao, "I miss the feeling of going to an in-person tournament. Not to mention, the chances of someone cheating is significantly lower."
Irvington Chess Club President Enya Mistry (12) along with the officers from other schools chess clubs allowed participants to screen-share games on a zoom call allowing other participants to watch and critique ongoing games.
Chenyi Zhao enjoyed watching the games but explained that she felt anxious as she watched her friend lose, "A part of the competition I did not enjoy would have to be in the final round when I watched my friend lose. That was quite frustrating."
Enya Mistry was incredibly thrilled that Irvington performed so well at the competition but hopes to increase participation in the future.
"We are planning on having more inter-school tournaments and getting more schools and people to participate," said Mistry, "The players did a really good job of winning and hopefully more people can participate next time because it really was a lot of fun."
About the Writer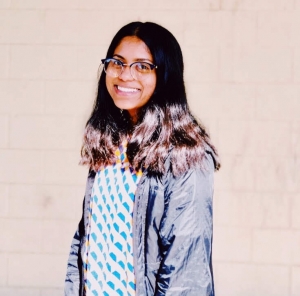 Anushka Nair, Humans of Irvington High Editor
Anushka (11) is thrilled to be HOIH Editor along with Rachel this year! She joined the Voice her sophomore year because she wanted to write about events on campus and enjoyed interviewing the diverse student body at Irvington. In her free time, Anushka spends countless hours scrolling through tik tok and watching
Hell's Kitchen.
She can't wait to make the most of volume 29!