Bet You Wanna Listen to Blackpink's Latest Album
Blackpink's first full length album portrays their different sides as both artists and people and shows that they have potential to rise above and beyond in the music industry and make a mark.
After four long years of being in the music scene, Blackpink finally released their record-breaking, full-length studio album, The Album, on Oct. 2, 2020. Only a day after its release, The Album was named the third largest album debut by a female act on Spotify, making it one of the highest ranking girl group album debuts. It also earned the number one position on Billboard's Top Album Sales chart with over 80,000 copies sold. The Album shows Blackpink in a new light as the four singers experiment with different genres in each track of the album.
The album starts off with Blackpink's pre-released single "How You Like That," which broke the record for the most viewed music video on Youtube in 24 hours when it was released in June. Like all of their songs, Blackpink's "How You Like That" was released to empower young girls by incorporating strong rap verses, choreography and lyrics all playing into a girl power theme. This is especially evident when the group's rappers, Lisa and Jennie, sing "Look at you, now look at me," arousing feelings of empowerment in their audience. The song starts off with what seems to be strong, rhythmic blows of a trumpet, leading to one of the members Lisa saying their iconic line, "Blackpink in your area". The song then continues with a light and airy first verse which contrasts the track's overall fierce tone. As if representing a person rising from their hardships, the melody of the song shifts from a calm one to a strong bass EDM beat drop in the chorus.
The second track, "Ice Cream," is a collaboration with Selena Gomez that includes a cute, fresh summer vibe with its electronic pop beats and occasional rap verses. The track is a complete contrast of the previous track and the track after it, "Pretty Savage." This track again incorporates a strong, pop EDM beat drop and consists mostly of raps and lyrics about Blackpink's "pretty" and "savage" duality. "We're very girly, but at the same time, we're very savage too," Blackpink's Rosé said in a recent interview with Jimmy Kimmel when talking about their recent songs.
Another song in the album, "You Never Know," describes the group's struggles before they debuted and the constant worries about their hopes and dreams being shattered. This soft, emotional ballad is the complete opposite of "Bet You Wanna," which features Cardi B and incorporates more attitude and peppy sounds. Cardi B's rap verse in the middle of the song provides a refreshing contrast to the exquisite vocals presented by the four girls of Blackpink.
The title track, "Lovesick Girls," earned second place on the Billboard Global Excl. US chart the week of October 17 and fifth place the week of October 24. The track consists of guitar strumming mixed with an upbeat chorus which interestingly juxtaposes the sad lyrics of "Lovesick Girls" that talk about the struggle of recovering from failed love.
Though the eight tracks on the album don't have a cohesive connection to each other, each song has its own message that Blackpink wants to portray to their young audiences. Blackpink's music empowers and energizes young people, and their lyrics bring out confidence in their audience, something that all the songs have in common. From a sentimental and sombre ballad to a hardcore bass EDM song, Blackpink continues to show both their fierce and soft-spoken sides with each new piece of music, ultimately living up to their respected name.
About the Contributor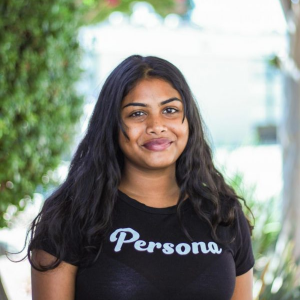 Sanjana Gudivada, Photo Editor
Sanjana is a senior who is the photo editor for The Voice. In her free time she grinds for college apps and the SAT and works out whenever she feels like it. Her daily diet involves boba or homemade Indian food, nothing in between.