FUSD Allocates Remaining Budget as the Year Comes to an End
As the year comes to an end, the state of California has mandated Fremont Unified School District to spend approximately $14 million by the end of the year. FUSD received this money through the CARES Act that was granted as part of the COVID relief fund, and the state issued it to be used by the end of this year. Many educators are lacking resources and are worried about the mental health of many students but believe that FUSD will not spend this money on these issues and will choose to pay off debt or supplant the money.
FUSD is facing large budget reductions for the 2020-2021 school year, which is estimated to amount to more than $18 million, a $6 million increase in reductions since the 2019-2020 year. Furthermore, there is expected to be another $15 million budget cut during the 2022-2023 school year. Additionally, the California state-funded cost of living adjustment (COLA) which is an increase in Social Security benefits to counteract inflation was 0% for the 2019-2020 year and is expected to stay that way for 2020-2021.
Prior to COVID-19, California's economy was performing very well and COLA was anticipated to be higher. The pandemic's lockdowns, however, resulted in over $50 billion in revenue deficit, causing the state to lower the COLA percentage, which used to be 3%.
Since salary increases are projected annually for FUSD according to the salary schedule, the lack of COLA funding will result in more debt.
"If we don't want to see our salary costs go up," said Trustee Dianne Jones at the superintendent budget advisory task force meeting on Nov. 16, "we either have to hope that a lot of people at the top of the salary scale retire, or we have to look at potentially laying people off which is horrible."
Although salary costs have been steadily increasing for the past decade, they are not the only rising numbers; costs for the special education program have increased by nearly $10 million in the past year. The current deficit for the program is $56.9 million and it grows at an average of $2.9 million every fiscal period.
Kelly Yamauchi, a Special Day Class (SDC) teacher, stated at the Nov. 12 board meeting that special education teachers are being asked to prove they are meeting Alternative Licensure Program (ALP) and Distance Learning Plan (DLP) standards.
"No other teachers are being asked to do this," said Yamauchi. "Furthermore, we are being asked to do this without compensation. Even after the union accepted an offer of three hours pay, it was rescinded and we remain in a loop."
She is also concerned about the Able Choice Consultants Report, which made a recommendation to reduce certified special education staff, as special education students would lack well-qualified educators. Special Education is just one of the departments desperately in need of the CARES Act funding given to FUSD by the state.
Fremont Unified District Teachers Association President, Victoria Birbeck-Herrera, however, believes that FUSD will use loopholes to ensure that the funds are allocated in ways that will take care of pre-existing problems without considering new ones. According to Birbeck-Herrera, staff such as psychologists that have worked for FUSD before COVID-19 and will continue to work after are currently being treated as COVID workers. As a result, she predicts FUSD will be funding the presence of these staff members using this money in a tactic known as "money supplanting" which occurs when the city government reduces local funds for an activity only because federal funds are available. FUSD may use the CARES Act money to pay these workers instead of using their current funds.
Furthermore, as enrollment numbers have continued to decrease significantly, FUSD continues to receive less money from California's Local Control Funding Formula, but this pattern is not new. In the 2018 to 2019 school year, 35,176 were enrolled while the number declined to 34,991 during the 2019 to 2020 year. The larger issue is that when FUSD enrollment numbers are even lower than the projection, the district will lose quite a bit of funding.
"If we have an enrollment projection decline and a decline beyond the projection of just 100 students in a district of our size," said Trustee Jones, "that can amount to… a chunk of change."
Budget reductions have been an ongoing trend in FUSD's history for the past several years, and the COVID-19 pandemic has made it worse. These reductions result in more staff, students, and families feeling overwhelmed with the lack of educational and mental health resources.
About the Writer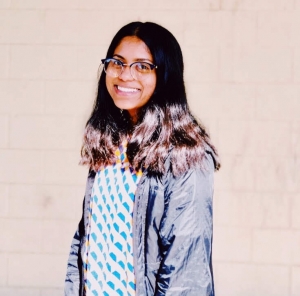 Anushka Nair, Humans of Irvington High Editor
Anushka (11) is thrilled to be HOIH Editor along with Rachel this year! She joined the Voice her sophomore year because she wanted to write about events on campus and enjoyed interviewing the diverse student body at Irvington. In her free time, Anushka spends countless hours scrolling through tik tok and watching
Hell's Kitchen.
She can't wait to make the most of volume 29!