LGBTQ+ Tie-Dye Event: An afternoon of fun and community:
On Friday, Oct. 30, ASG held their annual LGBTQ+ Tie Dye Event over video call, where participants tie-dyed their shirts while watching the TV Show "Love Victor." The event had 21 participants and was widely appreciated among them. Their shirts featured bright, rainbow colors which represent the LGBTQ+ community's flag, showcasing diversity and acceptance.
When this event was held in person, there would be boba and white crews for sale. However, due to the shift online, there had to be a few changes this year. SIA president Anika Dixit (12) says that instead of having live fundraising like previous years and handing out supplies, participants were informed of LGBTQ+ fundraisers they could donate to. Despite the shift online, planning did not take more than a couple hours and many of the logistics worked as expected. Other than slight delay in screen sharing and occasional internet hiccups, there were no outstanding technological problems that impacted the event.
The participants had entertainment to keep them busy while they dyed their shirts. "Love Victor," a show that features LGBTQ+ themes, was described by participants as a highlight of the event.
Samantha Chou (12), a participant, enjoyed the event and described it as different but nevertheless well executed. She described the process as easy to follow and liked that the event was casual.
"It was really relaxing and fun," said Chou, "Overall, it was a pretty, laid-back event where people could watch the movie and still do their own tie-dye thing."
Shovanne Juang (12) decided to attend this event because she had enjoyed it during previous years. She said that the event brings out support for the LGBTQ+ community and enjoyed the organization as well as the way that participants could stay engaged.
"Usually, these events are like PowerPoint presentations" said Juang, "They don't involve that much engagement. With a simple service activity and putting on like a movie or TV show that really engages your audience, you leave them wanting to join another event like this in the future."
The event was overall a success, and although it was in the middle of a busy season, many were able to attend and enjoy it. Most importantly, this event provided support for the LGBTQ+ community and was a fun afternoon for everyone who attended it.
About the Writer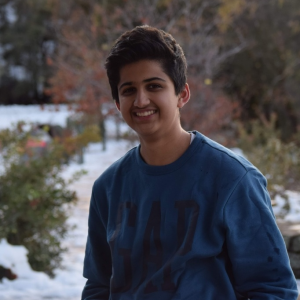 Tanmay Lakhotia, Staff Writer
This is Tanmay's (11)  first year with the Voice. He hopes to learn new things and have a lot of fun in the class! In his free time he likes road cycling, watching The Office, and playing his guitar. He also loves photography and eating tons and tons of chocolate, which he knows can't be good for him but does it anyway because of his inability to resist sugar.