Ebay Reseller: Sachin Syal
I started my business in 2016, and the reason that I started it was because my cousin was actually doing it and he introduced it to me. I find things around my house that I don't use anymore like phones, computers, and tablets, and I started selling them. I actually stopped but after I came back to it when COVID started, my life got much better because I was looking forward to something and actually doing something.
You probably have a lot of stuff around your house that you don't use anymore. They're just like collecting dust and sitting somewhere. After I sold a few things, I realized that things around your house have so much value to other people on the other side of the country. I've earned over $10,000 selling, and have made about 60 to 70 sales.
If you don't have things laying around, you can ask friends or family members, go to garage sales, places like Goodwill, or Savers, those types of thrift shops, and buy stuff for really, really cheap. I've seen resellers buy stuff for $1 and sell it for $100. A lot of people don't know the value of this stuff that they're giving away. It's not difficult to sell, you just need a strategy.
I don't market my items on social media because my business is called O'ChakDe which means "go for it" in Hindi and that's not really trying to sell it to my audience. What I do is I help them find what they love. It doesn't even have to be reselling, like I did a TED talk on finding your purpose and your passion.
I think the most enjoyable part for me isn't just making the money. It's really learning about how to do marketing. I'm definitely going to do that as a career, selling and entrepreneurship.
You can't really go in the real world and say, I just sell stuff around my house. What I'm doing right now will help me so much in the future because I'm getting professional experience, customer service, communication, and learning how to sell. The small things that you do, I'm also in Boy Scouts, and the stuff that I do there helps me prepare for life skills. So the things you do now will help you in the future.
You shouldn't always try to select how am I going to get this really fast? How am I going to look super good for college? Whatever you're doing right now, think about how that can help you in the future. Don't try to jump really fast and say "I need to keep on doing so many things." Look at what you're doing right now. If you don't think you're learning that much, find something new that can help you in the future and then use those skills to succeed in the future.
I'm mainly focusing on helping people make money, because that's most of my audience. When I get younger people in my audience, I can show them my TED Talk. If they like that, they can come to my YouTube channel; there's going to be other videos on it. I'm actually making a video about why 2020 was my favorite year. I came up with a quote about 2020: "Don't close your eyes in a year that opened your eyes."
It's a year that opened your eyes and is a year that got you out of your bubble. You saw what was happening in the world like racism and the pandemic. Keep your eyes open and don't close them.
I think the best thing you can have is motivation, a drive, and confidence. Always find a small goal and keep working towards that. The most important thing is to not give up. Trust the process and believe in yourself. No matter how talented you are, if you don't believe in yourself, you really can't do anything.
About the Contributor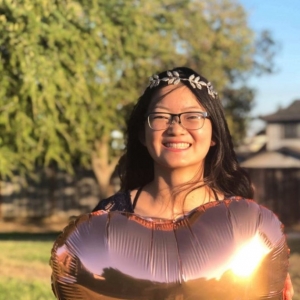 Serena Yeh, Features Editor
Serena (12) is a Features Editor in her second year with the Voice. When she's not contemplating the meaning of life, she's probably playing Animal Crossing or planning service events. She also likes crafting and would genuinely love to go back to school, so please wear a mask :)