French Teacher's Cafe Tradition Continues
French Club held their first Teacher's Cafe of the 2020-2021 school year on Wednesday, December 16 at 3:30. The teacher's cafe has been a longstanding French Club tradition; the event has been not only an opportunity for students and teachers to learn more about traditional French cuisine, but a way for the club to raise money for a charity or cause they believed in. In the past, this has included making donations to Native American organizations and the rainforest watch. While social distancing makes in-person meals and delivery difficult, French Club made some adjustments to bring the experience to students and teachers at home. 
"We wanted to keep up with the tradition," said Vice President Mirabelle Vardhan (grade), "because it's important to bring joy to people and stay connected with the teachers, especially during these troubling times."
French club officers have been working on this project since Thanksgiving break to ensure that they could provide the same positive impact as before. This year, they hosted a virtual cooking session for students and teachers, with some kahoot games to play while the food cooks. Admission cost five dollars and all proceeds were donated to the Monterey Bay Aquarium, an organization that has been struggling since the start of COVID, due to the decline of tourism.
The event itself was broken into three sections. For the first fifteen minutes, members of French Club showed a video of them singing Christmas carols. This was reminiscent of French Club's tradition of going to classes in the week before winter break and singing French Christmas carols to the students and teachers. For the rest of the hour, the teachers played a Kahoot game with trivia about France and French Christmas traditions. Teachers, including Mr. Einfeld, history, and Mrs. Morales, library aide, also participated and enjoyed the experience.
"It was really fun and exciting," said Mrs. Morales, "[The French Club] made it really interesting." Madam Cayla was the winner of the Kahoot, with students from French Club being the runners up.
The French Club Vice President commented on the benefits of the French club being able to keep their long-standing tradition during the Holiday season.
"It was just really exciting to give back to our community as a whole," said Vardhan, "I know that a lot of teachers were really happy to participate and the aquarium is going to benefit from donations, so I'm really happy about that."
About the Contributor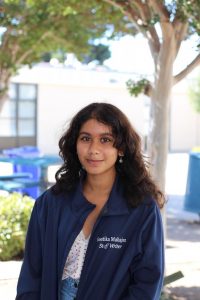 Geetika Mahajan, Humor Editor & Editor in Chief
Geetika (12) is this year's humor editor and editor-in-chief. Her hobbies include baking cakes at one AM and befriending stray cats. In her free time, she can be found scrolling through Zillow and apartments.com, getting emotionally attached to studios & lofts in New York City.