An Unforgettable Year: Mrs. Catherine Martinez
"With the start of the pandemic, I noticed there was one upside of having to go through distance learning. I realized fellow teachers in my department collaborated more because we were all new to online. I learned a lot from my colleagues.
As the year went on, I hated witnessing the division in our country on the news, and even within my own family, due to political differences. The moments that impacted me the most would be both the COVID-19 shut down, because being a teacher, it completely changed the way I'm working, and then the protests and the racial awakening that the country was going through caused me to want to educate myself further and look into some books about it. It helped me change the curriculum I was teaching in light of what I've learned.
Online school has forced me to think outside the box in order to do really straightforward things, like peer editing papers. We used to just swap papers across your desk, but now I have to figure out the software on turnitin.com to do it virtually. While online school has downsides, the later start is beneficial, as well as the lack of commute. I notice people have benefited from more sleep and not having to deal with long commutes.
When the pandemic is over, I'm looking forward to not being paranoid about being in the same room. I'm excited to be able to talk to people, students, and colleagues without having to go through email, wait for their response, and have miscommunication that way. I miss just being able to gather with extended family and friends who didn't live in my household.
My son made 2020 a better year. He's just changing a lot every day as a young baby and is unaware of everything that's happening so being around somebody who wasn't a reminder of all the negative things happening was good for me.
In 2021, I would like to see policies getting passed through the state and federal government that actually create the change that we need in the immediate future and in the long term. Right now, there's tons of rhetoric and people saying they're gonna do something, while nothing gets done.
My biggest takeaway from 2020 was that people around me have more resilience than I thought. Just being in the perpetual lockdown and being subjected to all the negative media, but still making it day by day was encouraging to see."
About the Contributor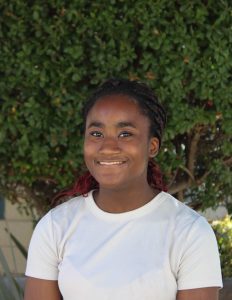 Mykal Mashack, Humor Editor
Mykal (12) is happy to be back for a third year at The Voice, this time as Humor Editor. Off the record, she likes pretending to be productive, writing, and reading. If she's not doing any of those things, she's trying not to get pulled over for her bad driving skills.