SPTSA and Interact Craft Upcycled Totes
On Jan. 8th, the Irvington Students of PTSA (SPTSA) and Irvington Interact Clubs collaborated to give attendees the opportunity to make tote bags while learning about the importance of recycling. Though previous plans fell through, the clubs were able to quickly pivot to a new idea to create an event with a reasonable turnout and a positive influence on the community.
Neha Suresh (10), an officer for both clubs, brought them together to work on an event. Originally they planned to create an event focusing on integrating and supporting special education.
"The original plan was a slightly different concept," explained Paula Punzalan (12), President of Irvington SPTSA. "We wanted to create a social with the special ed department and bring different groups of students together, working with the organization Inclusive World."
Due to the COVID-19 pandemic, Inclusive World was unable to participate and the event could no longer go ahead. However, after some brainstorming, the two clubs were able to come up with another event: creating totes from upcycled garments.
"We chose this theme because it's something both clubs can relate to, it's hands on, and it has a good message," said Anam Mughal (12), President of Irvington Interact. Punzalan seconded this, stating, "I always tell my officers to be intentional with their work" in regards to the creation of service initiatives.
This year's event publicizing was also very different due to the effects of the COVID-19 pandemic. Both Mughal and Punzalin lamented the crisis, claiming that it had decreased the number of attendees and made it much more challenging to reach the student body.
"In hindsight, we should have publicized the event two weeks sooner," said Punzalan. "We also could have put the movie Soul into the flyers to get more attendance."
However, even with these struggles, both club presidents were content with the 37 participants of the event. Participants also revealed that they felt the event was well-organized and contained a positive message towards the community.
"The event was a cool way to make an impact from home, while having an excuse to do arts & crafts and watch a movie," said attendee Aryan Sanan (12).
Both Mughal and Punzalan also commented on the unusual nature of a collaboration between a service club (Interact) and a school club (SPTSA).
"Working with a non-service club was a bit harder," said Mughal. "However it was a very good experience that I think brought a lot of new members together […] and will definitely happen again in the future."
Though the clubs scene this year might be slightly dampened by the lingering effects of the COVID-19 public health crisis, Irvington's clubs prove their ingenuity and creativity by continually adapting to these new circumstances.
About the Contributor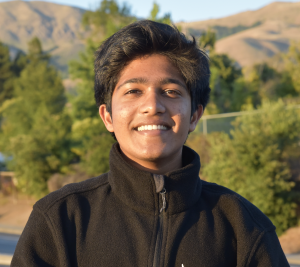 Darsh Singhania, Opinions Editor
Darsh Singhania (12) will be this year's Co-Opinions Editor and is looking forward to crushing the souls of all his writers. He is excited to start writing and editing opinions on a variety of topics including COVID-19 and its effects on the school and people across the world. In his free time, Darsh loves to bike, read, and roast people in debate club.