MAGAmerican Ninja Warrior
Have you ever wanted to participate in American Ninja Warrior but not been allowed because you need to be "athletic?" Have you binge-watched the series and felt like it wasn't American enough? To solve these troubles, we introduce MAGAmerican Ninja Warrior – the most patriotic course to ever exist in American history. Its goal – to enter Capitol Hill, assert dominance over the snowflake lawmakers inside, and make sure Biden is never able to waltz into the White House.
The course itself is quite fun – but like any good course, the more you prepare for it, the better. So we've curated a list of tips you may or may not need as you stand to crack it. So here it is –
Do not wear a mask – to be patriotic, you've got to be able to stand proud of yourself and your face. Not to mention, getting the virus and still completing the course is the best way to prove that the virus is pretty much nonexistent.
Do bring a phone – you've got to record what you did and flaunt it to the elitist trolls at home.
Camouflage to turn you invisible (the libs will never see you coming) and climbing gear. To be precise, you want to have a big belt, sturdy shoes, and hands that are 1.5 to twice the size of Donald Trump's, or about the size of a half a hotdog.
A POSITIVE and PATRIOTIC attitude and your favorite red cap
If you made it this far congratulations. The fun is about to begin.
The Wall
Not to be confused with the wall from the 'build that wall' sentiment, this wall, about twice the height of the six-foot hamburger you had for brunch (mmm grease), is one that encapsulates all of Capitol Hill. It's meant to keep us proud Americans from getting in, and many true supporters fall for this trap. Fear not, this is where your camouflage and climbing gear come into play. By donning your camouflage, you're officially invisible to any person who tries to pull you down in an effort to beat you to the race. Your belt can be used as a rope and once you've secured it to a spire, be sure to hold on to it with a tight grip and scale the wall. For motivation, envision Trump standing on the other side of that wall, waiting for you with open arms. Remember, competition is everywhere. So wearing your thick shoes, be sure to kick away anyone else who dares scale the wall before you. (You've got to be first – anyone who isn't is practically a democrat).
Police
Now that you've successfully scaled the wall, it's time to get through security. Now a lot of these people may seem really scary and unapproachable at first. But just like COVID, once you get to know them well, they're pretty much harmless. All you need to do is win them over. This means chanting "blue lives matter" over and over again while you gently assault a cop with your AK-47. Be sure to record your antics on your very old phone while convincing the guard to pull their mask down. Later, post it on Parler and be sure to tag the officers, that way you recognize their efforts and let them bask in the glory of getting to know you. If you're able to, you might simply smack a guard or two into joining the cause – although most officers may already be in the crowd.
Decoding the Labyrinth
It's important to start recording now and preserve your expedition digitally, but this labyrinth can be quite difficult to navigate – many have been forced to look for an exit until their last days. Others often get distracted by the gift shops located around the first floor. While stealing all those trinkets are important to make a stand, it's not necessary – and it's a risk most people are not strong enough to fight against. After all, people might start to think that you're socialist – and that just defeats the purpose of our event. When you pass by those gift shops, be sure to look the other direction and remember what you're fighting for.
Stop the Count
Yell this phrase over and over, scaring those left-wing losers into melting to your demands. Be the first to chant and the grand prize is all yours. "What is the prize?'' you may ask. Well, fellow patriot, you get to restore the world's most flawless country – pretty cool, don't you think?
When you've won, it's time to run – only those who make it out of the course alive can receive a prize after all.
But congratulations, you've finished the race of a lifetime, the track that beats all tracks. It's time to head back home, sit on your couch, and watch the next rally with a nice bottle of beer or its non-alcoholic equivalent by your side.
About the Writer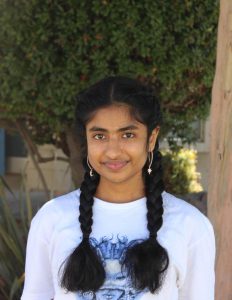 Sadhana Chari, Editor in Chief/Student Life Editor
Sadhana (12) is excited to be back for her third year at the Voice. She loves traveling, reading, and baking really badly. If you can't find her doing any of those things, she's probably aggressively playing 2048 - 3d version to replace her solitaire and cut the rope addictions.