Taylor Swift is Still the Music Industry, Now and For evermore
Just a mere five months after releasing folklore, Taylor Swift once again surprised fans by releasing another album, evermore, written and produced while in quarantine. In doing so, she became the first person to debut on both the Billboard 200 and Hot 100 charts simultaneously, broke the record for the shortest gap between two number one albums by the same artist, and sold one million copies of the album in the first week. Her main collaborators from folklore, Jack Antonoff, Aaron Dessner and William Bowery, also made significant contributions on evermore, including helping in the writing and production process. Swift has stated that she feels that evermore is more of a fall or winter album, as compared to folklore having more cheery, optimistic spring and summer tones.
While Swift previously treated albums as one-off eras with their own aesthetics— using motifs of cities and 80s inspired pop beats for 1989, then switching to darker imagery and electropop for Reputation, and finally revamping in pastels and glitter for the synth-pop Lover— evermore and folklore, the so called "sister albums", share similar tones, aesthetics, and poetic lyricism. The difference lies in songs like "gold rush" and "long story short" in evermore: both of these tracks are notably more upbeat than any of the songs on folklore; instead, they resemble her seventh album, Lover.
In evermore, Swift continues to prove her capabilities as a songwriter, weaving in even more fictitious stories than she did in folklore; in "no body, no crime", which features the HAIM sisters, she narrates the story of a vindictive best friend who murders her friend's cheating husband. Alternatively, in "'tis the damn season" and "dorothea", she tells the story of two high school sweethearts who fell apart after one of them went to Los Angeles to pursue dreams of making it in Hollywood. Both these songs show off Swift's songwriting ability and add depth to the album, as fans puzzle over which songs are fictitious and which are based on Swift's actual life.
Critics are still divided on how folklore and evermore compare to each other. One thing that evermore is definitively superior in is the fictional worlds that Swift creates; while folklore did have a few songs that were rooted in fiction, evermore is almost completely composed of three-minute long stories about characters Swift has dreamed up. Fan favorite track "champagne problems", for instance, tells the devastating tale of a woman explaining to her boyfriend that her mental health issues present a significant block to their relationship, and that he should move on and find someone else. Regardless, critics unanimously agree that, like its sister album, the minimal production, combined with Swift's vivid storytelling, allows her lyrical ability to truly shine.
Evermore appeared on many best-of 2020 album lists, despite being released a mere two weeks before the year ended. I would personally rate this album as a 5/5, due to the superior songwriting.
About the Contributor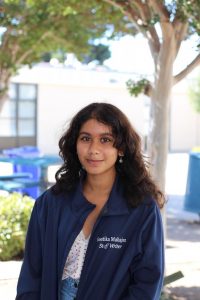 Geetika Mahajan, Humor Editor & Editor in Chief
Geetika (12) is this year's humor editor and editor-in-chief. Her hobbies include baking cakes at one AM and befriending stray cats. In her free time, she can be found scrolling through Zillow and apartments.com, getting emotionally attached to studios & lofts in New York City.