Irvington DECA Virtually Makes History at NorCal
From Jan. 11 to 28, Irvington DECA broke records at the Northern California Career Development Conference. On top of overcoming challenges due to the pandemic and adapting to a virtual competition, Irvington DECA had a total of 246 members place top 10 in their competitive events.
Irvington DECA members competed in roleplay and written events, which have slightly changed with the new online format. Usually, competitors are given 10 to 30 minutes to prepare a response to business scenarios in front of a judge. With three days to film and upload their presentation online this year, competitors had more time to research.
"Instead of making sure that it's perfect the first time since you have to do it in front of a judge, [Norcal] was less stressful because the presentations are recorded so you can do it a bunch of times," said Sissi Zhang (10), an Irvington DECA member who placed first with her partner Coco Li (10) in Hospitality & Tourism Team Decision Making, "
Written events included a report, recorded presentation, and virtual testing session, which had a shorter time limit to prevent cheating.
"I disliked how the testing [time was] 60 minutes," shared Li, who also placed first with Zhang in Buying & Merchandising Operations Research. "I had to cram so hard, rushing through the entire testing session."
Even though NorCal was an opportunity for Irvington DECA members to learn how to compete virtually, they still missed the interactive, fun experience of the usual three-day, in-person Norcal conference.
"In these DECA conferences, a major part besides competing is hanging out with friends, making new friends, and going around near the conference site to just hang out, eat some food, and have fun," said Andy Ping (12), a four-year Irvington DECA member who placed third in Personal Financial Literacy and received his first ever glass award in a NorCal conference. "But I think the whole event was still memorable because this is the first time we've ever had a virtual competition in the history of Irvington DECA."
Irvington DECA also made history at NorCal with 40 teams placing in the top three, which included 18 teams double-placing top three. These results were positively influenced by Irvington DECA officers' great efforts in preparing their members. Besides hosting a practice mini conference and weekly workshops that covered a variety of business topics, the officers spent a lot of time meeting up with members individually to review their reports, run roleplays, and even created a performance indicator dictionary that detailed how to explain certain business concepts. In addition to providing competition resources for members, Irvington DECA officers have also started a new program called Diamond Project, which includes Diamond Consulting and Diamond Entrepreneurship. These programs offer opportunities for club members, even non-CTE students, to help local businesses and drive innovation.
"Currently, our students are working with five local businesses such as Nothing Bundt Cakes and the Warm Springs Cabana Club. And they're basically helping them address some issues and help them with their operations," explained Irvington DECA President Agnline Liu (12). "As for Diamond Entrepreneurship, they're working with the FBLA Loop program, which is FBLA's non-CTE program, to come up with new business ideas, developing websites, and creating prototypes."
As their successful season continues inside and outside conferences, Irvington DECA is excited to compete in the State Career Development Conference starting later in February and keep maintaining its position as one of the powerhouses of California DECA.
About the Contributor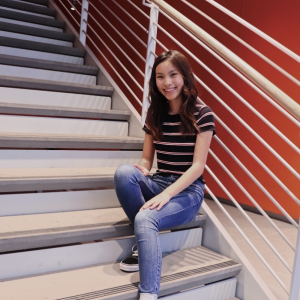 Joy Kuo, Student Life Editor
Joy Kuo (12) is joyful to be the Student Life Editor for her second year in Irvington Voice. Joy joined Irvington Voice because she enjoys engaging with the Irvington community and sharing peoples' stories. In her free time, Joy loves to take photos, watch kdramas, obsess over skincare, and drink Jasmine Milk Tea with boba (30% sugar + no ice). Find her on Instagram @jkjoykuo