Always and Forever Completes Lara Jean's Journey
*The following review contains spoilers so read at your own risk!*
Released on Netflix on Feb. 12, 2021, To All the Boys: Always and Forever concludes the three-part To All the Boys series. Directed by Michael Fimognari, who worked the previous two films of the trilogy, and produced by Chris Foss, the movie features Lana Condor as Lara Jean Covey and Noah Centineo as Peter Kavinsky.
"Dear, Peter. Hello from Seoul." This simple line starts the film, and is an ode to Lara Jean's love for writing letters, which has been an important aspect of her character since the first film. In this third installment, Lara Jean is a senior in high school in Portland, Oregon and things are finally starting to look up for her future with Noah, having gone through troublesome romantic drama in the past.
Rather than another love triangle, however, looming college decisions seem to be the archnemesis for Lara Jean in the film. Having got a scholarship to Stanford as a competitive lacrosse player, Peter's future is secure compared to Lara Jean who is awaiting her college admissions at the beginning of the movie. The couple's goal is to go to college together and spend the next four years living in the same city and truly growing their love. However, when Lara Jean is rejected from Stanford, things take a turn for the imminent worse. Viewers are left wondering how things will play out for this supposedly perfect couple.
While the plot seems like a stereotypical high school romance at first, there is more to the movie than meets the eye. From glances at bustling, new places like New York City and the addition of warm and loving characters, the film depicts a more realistic take on what would have seemed otherwise too cheesy. Overall, the plot has mediocre substance but is well-executed, evident by its continuing story arc and character relationships from previous installments. Not to mention, the foreshadowing and relatability of situations are overt, much to the appeal of the audience, who are primarily teenagers and young adults. One especially relatable situation is being rejected from colleges such as Stanford that are highly selective.
The element of foreshadowing is seen best when Lara Jean is baking cake for a special event, her father's wedding. She grows frustrated as the thing she loves most, baking, adds to her stress rather than minimizing it. Seeing her irritation, her dad asks, "Why don't you just bake cookies? That's your specialty." Lara Jean dismisses the idea, stating that a matter of practice would make everything better. However, by the time she finishes making the batter, she realizes it tastes more like cookie dough instead. It's at this pivotal moment that Lara Jean realizes that forcing her way through everything would exacerbate her problems, and that she should instead embrace and welcome outcomes that may deviate from what she had in mind, especially in regards to her future with Noah.
The movie also spotlights characters such as Gen (Emilija Baranac), Peter's ex-girlfriend, who Lara Jean gets closer to over the course of the movie. This dynamic provides more depth to the scenes and makes for many full-circle moments. For example, by slowly becoming friends, Gen and Lara Jean appear to end off their long-standing rivalry, creating a brighter future and an end to their hateful relationship.
At the same time however, not all the actors bring out their character's potential to the fullest. While Lara Jean comes off as personable, Peter Kavinsky seems like a backdrop character throughout. His image appears to be one that constantly pushes others without hearing their thoughts, especially when he ironically interrupts and inadvertently precludes Lara Jean from telling him the truth about her Stanford rejection. This makes his character seem more forced and less human, despite the movie intending to highlight different aspects of both Peter and Lara.
With consistent motion and imagery alluding to a bigger motif in the plot, To All the Boys: Always and Forever has made a deceptively basic movie into something more, bringing forth the idea that being yourself is the best way to excel in life. In comparison to the other movies, however, it stands second to the first movie, simply because of the lack of scope carried out by Noah Centineo, as Peter Kavinsky, who should've been a growing star throughout the trilogy. This movie is by far superior to the second movie, where both Lara Jean and Peter Kavinsky seemed too distant and unable to adjust to changing circumstances during their junior year. 
Ultimately, this movie struck a decent balance in its plot. While the trailer made the movie seem sparse and dry, there was much more to it than initially expected. The IMDb rating was a 6.4/10, but all things considered, I would rate this movie a 7.5/10, deducting points because of the unappealing trailer and unflattering portrayal of Peter Kavinsky.
About the Contributor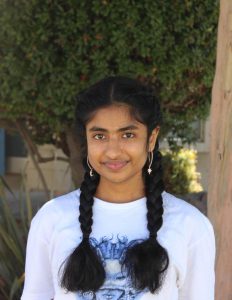 Sadhana Chari, Editor in Chief/Student Life Editor
Sadhana (12) is excited to be back for her third year at the Voice. She loves traveling, reading, and baking really badly. If you can't find her doing any of those things, she's probably aggressively playing 2048 - 3d version to replace her solitaire and cut the rope addictions.