Senioritis Poetry
Polaroid
A teenage girl bearing a blue shirt,
The words "Blue Crew" wrinkled by the hyper wind,
Huddled around and smiles bore are Extroverts and Introvert,
After the BUUM, with dirt knees skinned.
When you ran behind that softball bleacher,
And shouted the letters of IHS on that expandable stand,
Did your sprinting carry you further than that mile and half procedure,
All the way to your room with a laptop in hand.
In the rallies, you would be shouting "Seniors",
And I'm wondering how,
Your three years of screams of "I", "H", "S" while standing behind cheerleaders,
Passed you by here and now.
I've run out of films and the ink is fading,
An empty polaroid,
No longer a need for me to stay waking,
Because you've grown up in the walls of your room paranoid.
And you should be.
Because your the girl in my film wearing a blue shirt and a blue ribbon band,
And time managed to flee,
Right from your hands.
Swimming in Sand
An hourglass inescapable,
A red ribbon tied to the top,
The dancer in my eyes is young.
And willing to fall.
Away from days at the playground,
Scowling at the ones who keep her from the highest structure,
She can't wait to grow up.
Let go of the ribbon and let her fall.
Lines of this world are blurred
So do they continue forever,
Or did I follow the wrong one?
Down she goes the line, there she will fall.
I'm tired and I no longer wish to see the bottom,
This emptiness and lack of motivation,
I'd rather fill with childish anger and revenge,
Keep her afloat, don't let her fall.
Catch the sand before it touches the bottom,
This fragile hourglass of childhood,
From our first day of school at age 6 in autumn,
To a reluctant fall into adulthood.
About the Contributor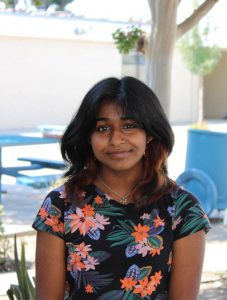 Urmi Mandal, Features Editor
Urmi Mandal (11) is looking forward to her second year at the Irvington Voice as Features Editor. She joined to find some fun and meaning out of IHS's campus before she graduates. Her pastimes include reading and painting. Find her on Instagram @urmixm.