FUSD Schools Remain Closed for the Remainder of the 2020-21 School Year
On March 31, Fremont Unified School District's (FUSD) Superintendent CJ Cammack published a newsletter, detailing that any return to in-person or hybrid learning would be canceled for the 2020-21 school year. Prior to the update, the Fremont Unified District Teachers Association (FUDTA) and FUSD had been negotiating agreements for reopening elementary and secondary schools, until FUSD walked away from the bargaining table.
Fremont is among 5 school districts out of 18 in Alameda County yet to reopen. According to state guidelines, schools would need a proper safety plan five days before the return. Out of the required guidelines for reopening, FUSD did not complete protocols for Hybrid-Learning, Staff Testing, Health and Safety, Transportation Procedures, and Meal Procedures. 
FUDTA and FUSD began working on a reopening agreement in late 2020. While FUSD Superintendent Cammack cites the starting date of negotiations as being around October, FUDTA President Victoria Birbeck-Herrera stated they began in December of 2020.
Traditionally, these negotiations take place with a set of representatives from both FUSD and FUDTA. For reopening negotiations, FUSD picked representatives including their superintendent for Human-Relations (HR) Raul Zamora, the HR director Sherry Strausbaugh and representatives from various schools. FUDTA picked special education specialists and their California Teachers Association-trained executive director, along with teachers from secondary and elementary schools, to help with bargaining.
In his letter on March 31, 2021, Superintendent Cammack writes that FUSD and FUDTA were unable to come to an agreement on procedures for hybrid learning and how school should reopen.
"[T]he district suggested […] to reopen entirely at the secondary level," said FUDTA president Victoria Birbeck-Herrera. "And [they were] in disagreement with us wanting to create cohorts of secondary students. [So] contact tracing would then necessitate shutting down the whole school if someone was there."
FUDTA's proposed cohort schedule would involve a homeroom-style system where students would be randomly assigned to a classroom and continue their distance learning schedule via Zoom. There would be no switching rooms between periods. The classroom setting would provide additional support for students who required it or who did not have the resources to learn sufficiently at home, such as poor WiFi or an insufficient learning environment.
Due to fundamental disagreements between FUDTA and FUSD on how schools — particularly secondary education — should reopen, FUSD walked away from negotiations. Failure to reopen secondary schools meant primary schools would remain closed as well. Had FUSD reopened its schools, the district would have gained approximately $9-10 million in one-time funding, supporting all additional responsibilities undertaken given the circumstances.
Another large issue that arose during negotiations was a $2100 stipend for teachers.
"[This money] is only for educators, about 300 of them, who would have been working the additional amount… out of our over 2000 [teachers]. We identified specific teachers that were being asked to do this additional work, and that those would be the individuals who would get compensated," Birbeck-Herrera stated.
However, this stipend seemed too infeasible for FUSD representatives. For starters, the stipend was only to be granted for elementary school teachers, and not secondary school teachers.
"The proposal from FUDTA for additional compensation didn't arrive at the bargaining table until much later in the process [of negotiating]," stated Superintendent Cammack.
Furthermore, under what is known as the 'Me Too' clause, FUSD was concerned that unions would ask for additional payment as well. These unions include CSEA (California School Employees Association), which serves food, office, maintenance, and transportation workers within schools, as well as the SEIU (Service Employees International Union), which serves healthcare workers, janitors, and social workers. With this in mind, FUSD estimated that additional pay alone would cost the district 8 million dollars in funding.
Birbeck-Hirerra disagrees with this interpretation of the clause. She described that if a worker such as a janitor worked overtime for an additional shift, they too would be eligible for such a request. Ultimately, this would not be due to FUDTA's negotiations as the stipend itself was meant to specifically help teachers working overtime.
FUSD has struggled through implementing distance learning as well as creating a plan to return to school since the beginning of the coronavirus pandemic. Former superintendent Kim Wallace resigned on March 20th as schools across California began to shut down, leaving the district scrambling to find a suitable replacement.
"We did go without a superintendent from March until August, which is incredible," said Birbeck-Herrera. "So we barely were staying afloat. But we did not have anyone doing that strategic planning from the district side."
For the next few months, the superintendent for HR, Raul Zamora, was named the acting supervisor. Unfortunately, frequent miscommunication between Zamora and FUDTA ultimately delayed FUSD reopening plans. In fact, FUDTA President Birbeck-Herrera stated that this meant FUSD was "very late compared to other districts, both in bargaining, but also in terms of district preparations."
Students have remained mixed about the issue. According to a survey of 452 people conducted by the IHS Voice, 70.8% of students (or 320 students) at Irvington wish to remain fully online. If given the chance, 14.8% of students (or 67 students) would try hybrid-learning. 14.4% of students (or 65 students), remain undecided as to what the best option is.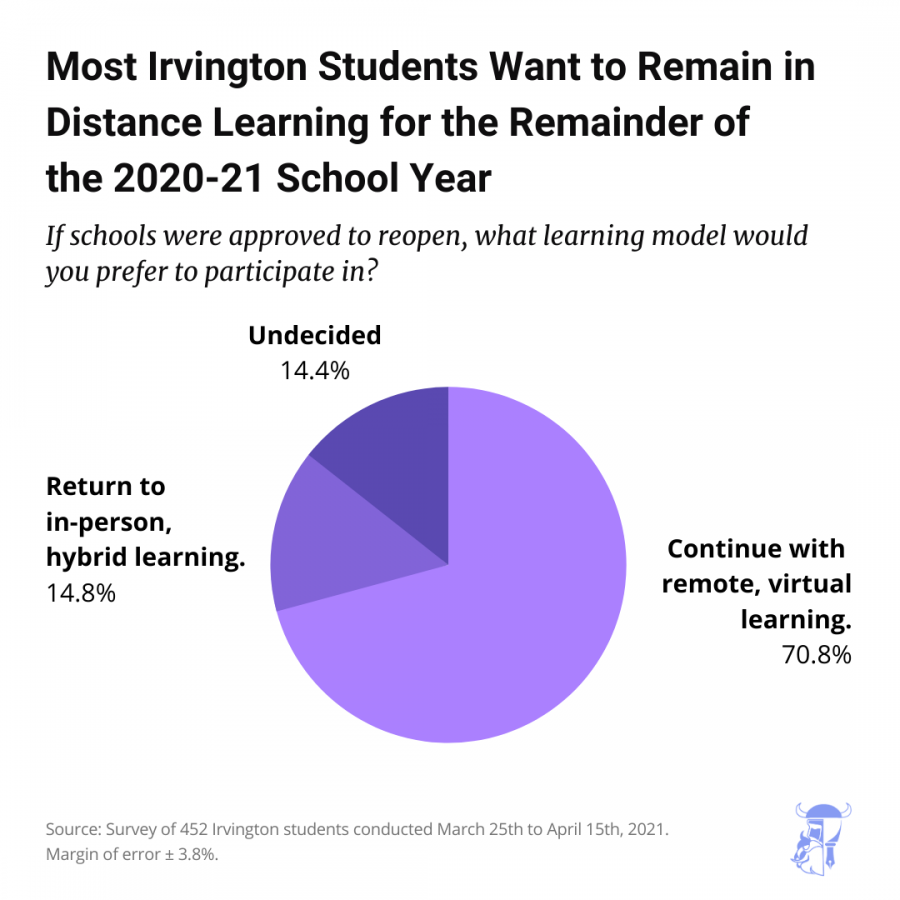 On the other hand, within different families, willingness to return to school differs. Notably, within the College Prep family, only 65.3% of students would remain in distance learning, compared to 72.4% and 71.7% for AP/Honors and CCA, ITA, SHAPE, and Other families, respectively.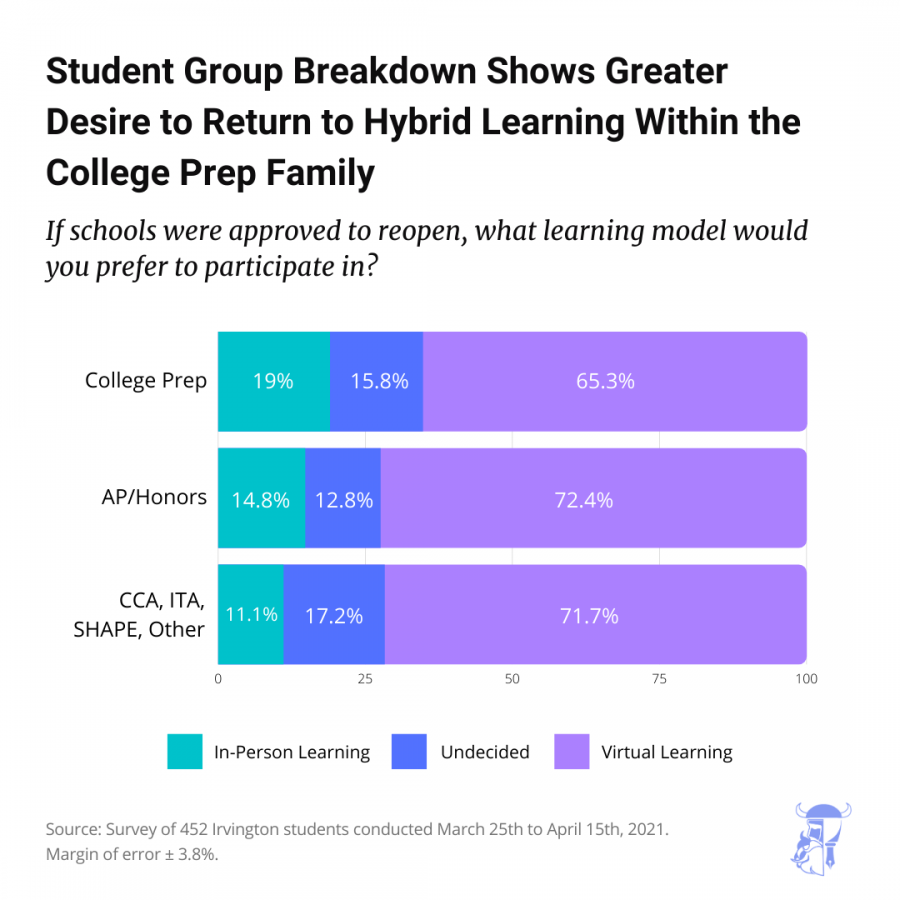 "The teachers have to teach both online and in-person — so it's not like we're learning anything differently," Andre Lajevardi (11) states. "And it's not [just due to] COVID — I'm vaccinated." Moreover, as extracurriculars like theatre have begun to open while under safe guidelines, Lajevardi feels the return would not do much for students or teachers.
On the other hand, a group of frustrated parents have already hired the law firm Aannestad Andelin & Corn and threatened to sue the district if it does not reopen. For more details, click HERE.
When COVID-19 initially spread through California, Alameda County was among many that shut down schools. Nearly a year later, the county has moved from Purple Tier and widespread cases to Orange Tier, allowing schools to reopen.
Currently, California is set to fully reopen by June 15. Given the circumstances, FUSD and FUDTA are no longer working on a negotiation to have hybrid learning this year. Instead, they are working to prepare a hybrid summer school program for 2021 and protocols to return in person as the 2021-22 academic year begins.
For additional information on Alameda County school districts reopening, click HERE
For additional information on FUSD's initial reopening plans, click HERE
For addition information on summer school negotiations, click HERE
About the Contributors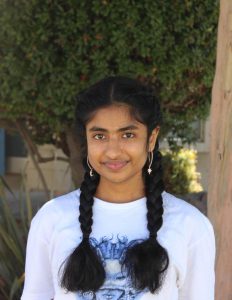 Sadhana Chari, Editor in Chief/Student Life Editor
Sadhana (12) is excited to be back for her third year at the Voice. She loves traveling, reading, and baking really badly. If you can't find her doing any of those things, she's probably aggressively playing 2048 - 3d version to replace her solitaire and cut the rope addictions.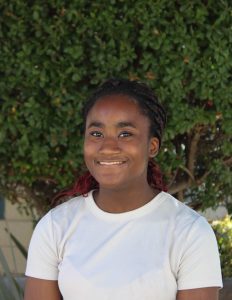 Mykal Mashack, Humor Editor
Mykal (12) is happy to be back for a third year at The Voice, this time as Humor Editor. Off the record, she likes pretending to be productive, writing, and reading. If she's not doing any of those things, she's trying not to get pulled over for her bad driving skills.