How Theater and Music Students Adapted to Virtual Learning
Jump to:
---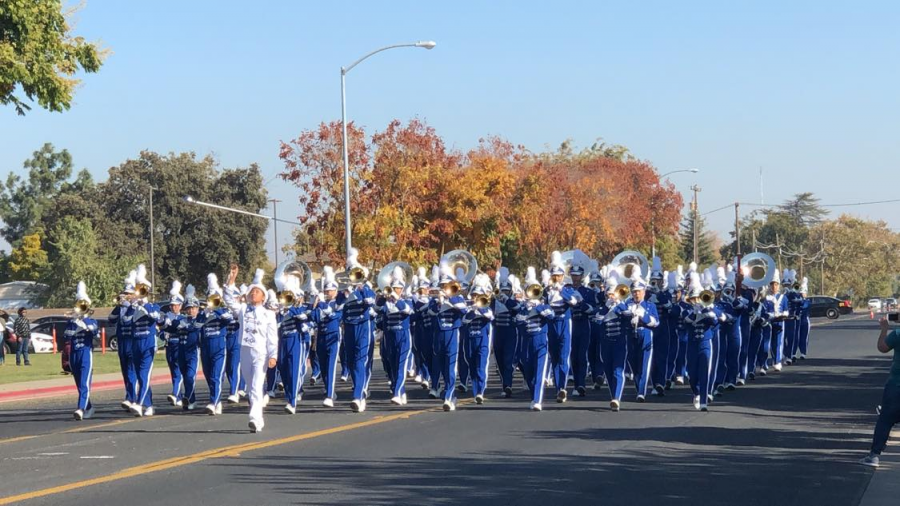 Sarah Tai (12)
In marching band, I'm the varsity drum major. In normal band, I'm a trumpet player in Wind 1 and I'm also in jazz band.
Mostly, for me, music is a big creative outlet. I really enjoy the community that comes with band and being able to work together to create something that's really special that you can't do by yourself. Also, appreciating what everyone else can do too in the band – I can't play the flute, but we have some really great flute players and listening to them play and listening to other instruments' solos. The way that things blend and come together is really nice.
For music, we're doing our best with virtual learning. I think it's harder, especially for music and performing arts type classes, because you really have to be together in person to make it work. You can't all get out your instruments and play on Zoom because of the Zoom lag.
What we're doing now mostly is sectionals instead of being in a large group, everyday, we split into our sections; the trumpets will meet, and the trombones will meet, and low brass. Then, we'll either work on our own, or we'll work on a non-performing element of music.
We've also been trying to take videos by ourselves, and then we have someone put them together with the video and editing software, but it's completely different from being in person because you can't hear the people next to you, you can't adjust your own levels.
It takes way longer for anything to get done, because when we're at home, we have to learn it by ourselves, and we don't know exactly how it fits in with other sections, and how it blends with other trumpets, or with the low brass or with all the brass in general.

Sarah Tai
Last season, we did not have any band reviews, because we couldn't practice in person together, and we couldn't even submit a video to a band review. We're not six feet apart from each other when we march, so it's not very COVID friendly. We weren't able to practice marching stuff in person, which meant no band reviews, they were all canceled. I think it was definitely a disappointment for me to miss my last season of marching band. But I'm really thankful that last season, I was able to drum major and lead the varsity band, I think it's definitely a blessing because I didn't know what would happen this year.
A big challenge is community with incoming freshmen, or JV. Usually, our band is pretty tight knit, because we see each other three or four times a week, if not more. There are upperclassmen talking to underclassmen, and we're introducing the freshmen to the rest of the band and marching band culture and what it means to be a part of marching band, and even just teaching them how to march. It's so hard to do online, because when we're in person, we can be like, "No, no, no, you got to move your foot three degrees to the right." But online, it's really hard to see, especially since even setting up angles so you can see people's whole bodies is difficult. It's hard for them to be in a place where they can play their instrument because they have to be mindful of their family and what they're doing. It kind of feels like we lost a year of instruction with them musically, marching wise, and also community wise, so that has been horrible.
Personally, I think the benefits of virtual learning for band, if any, are very few and far between. In all senses of what band is, virtual learning has made it a little harder because everything that I really enjoyed about band is hindered now and we can't do it.
We did a Christmas song, but it didn't go into the winter rally because the song is copyrighted so we weren't allowed to publish it on YouTube. We had a private link and even though that performance wasn't a big performance, it was a little project we worked on. It took our editing people 40 hours. And it also took us a long time to record it, but we can't publish it because of copyright laws.
I think we learned that it takes a long time to put together, longer than we thought it would. Because tuning is an issue; within person, you can adjust it right there. But online, you play your whole thing. And then the editors are like, "Oh, you're super sharp. And now what do I do?" So we learned that takes a long time to edit and that it's a lot of work. We were trying for this one to give our editors a little bit more time. But depending on how long it takes everyone to learn the song, I don't know how much time they'll have. But that's definitely something that we're trying to keep in mind.
Thoughts on Reopening
I was a little excited about reopening at the beginning. The thing that concerned me the most was that the people who would have gone back would be the people who already aren't social distancing, and masking with their friends. Going back to school would mean that I'm in a space with the people who don't social distance, or take proper precautions when it comes to being safe. I was not planning on going back just because of that, because if they're comfortable going out with their friends, like hanging out and eating food together, then they're cool going back to school, they get to hang out with their friends. Also, there wasn't that much school left anyway.
I would like to go back to school for band, but I just don't see how it's possible. Because for band, there's 60 of us in a room. And we all have to blow, except for the percussionists, so that's like the least COVID safe environment I can imagine, 60 people in a room all blowing. But I really hope that by next year people can get vaccinated, and that the band will be able to play together, because I think a lot of people are missing it.
I think marching band might be possible since it's like outdoors. Honestly, I'm not sure. I hope it is. I hope that we get to do something, even if it's just like marching and not playing, just kind of getting back into practice after a year and a half of not doing anything. I think if we have another year of online marching band, it's gonna be really hard to get back into the competition readiness, once we do get to compete again.
There isn't that much room at Irvington. Before COVID, it was super packed, so, if everyone was to go back, I think everyone would have to be vaccinated and stuff. I think the things that would make me feel safe are like things that aren't feasible, just because of money issues. Not all the classrooms can get, like filtered HVACs you know, and we can only have 12 people per classroom because we just don't have enough classrooms for that. But I think, I don't know, I think for me, it probably just be the vaccination, because I think there's no other way to be safe while still being realistic, just because of our money.
From what I know, FUSD and FUDTA were negotiating and then FUSD, the district walked away from the teachers union, because they were like, "Oh, your demands are too high" because they wanted a pay increase and something like that. But honestly, I'm kind of on the side of the teachers union.
If I were a teacher, I would want to be paid more for risking my life and going back to school to teach kids.

Sarah Tai
Two years ago, one of the trumpets in marching band won homecoming king. And after he won, we all freaked out. We screamed, and then marching band was there because it was our homecoming game, and field show performed. So after that we all went to Denny's. And we all hung out, oh, we ate and we talked, and it was really fun.
It's definitely a big honor to be nominated even and to win homecoming royalty, I think I wasn't expecting it. I definitely miss the celebration I think we would have had if it was normal. But hey, maybe if it was normal, I wouldn't have won. So you win some, you lose some, I guess.
Do I have a message for people who are struggling in distance learning? It's okay. I'm struggling too but, hopefully we will get out of this in one piece and be able to give each other hugs again because I miss giving hugs. Hecking stay safe and don't go eat when you're with your friends when you're unvaccinated, because that's not safe. Don't do it. And I believe in you. You are stronger than you think you are.
---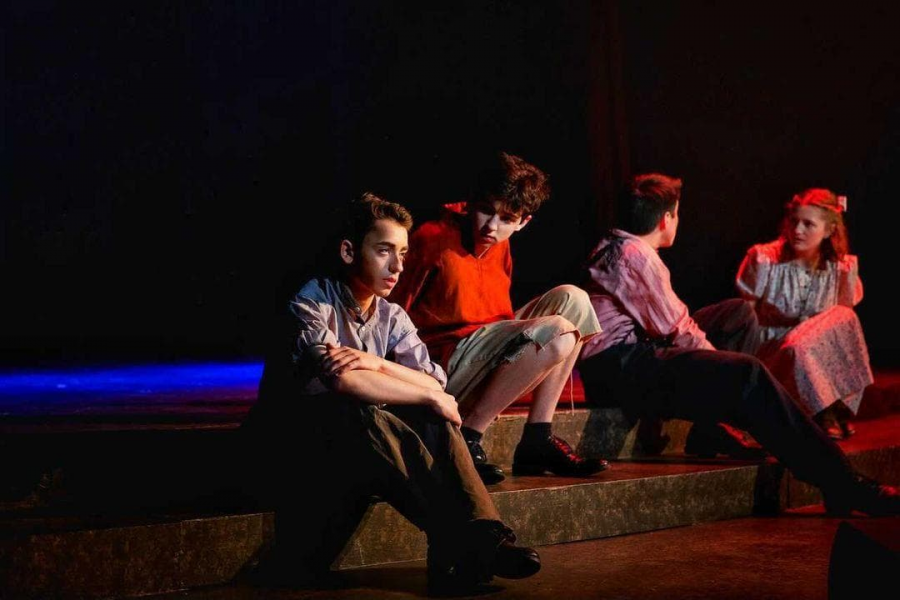 Andre Lajevardi (11)
I've been doing theater since I was about eight years old, and since then I've kind of been doing it non-stop. I'm the junior president of the Performing Arts Club and I did my first Irvington musical when I was in eighth grade, in "Fiddler on the Roof" in eighth grade. Then, in my sophomore year, I did "Peter and the Starcatcher," which was the fall play. This year, I did the fall play as well, virtually.
I'm going to pursue a Bachelor of Fine Arts and Musical Theater for college. During the pandemic, I've done a lot of things related to my craft to keep it alive. If anything, my passion for it just grew stronger. I think, in life, everyone gets their calling, and I think theater is mine.
I've been in virtual dance classes, even some in-person recently. I've been doing pre-college programs at places like Oklahoma City University, and doing some virtual musicals and keeping my weekly singing lessons going on.
The goal of performing is to tell a convincing story to a group of people. Not everyone is gifted to be able to convincingly share a story that's not theirs, to be perceived as realistic from an audience's point of view.
That's kind of what it means, to me—once you enter the theater for those two or three hours, to forget everything that's happening in your real life and just be present in that moment.

Andre Lajevardi
You can't really replicate theater to a virtual format, but you can try your best by making shows virtual and things like that, so that's what they've been doing. All the classes I've been taking have shifted online, but Broadway is still closed and so is regional theater and national tours. It's kind of difficult for them to stay alive even and perform. Theater has adapted, but not obviously not for the better, but theater is always alive.
For the fall play, I think we did the best we could. Mr. Ballin, the drama director, worked really hard to put it together, so I think we did the best we could with the time we were given and the current circumstances. We are facing the same challenges as many other activities, just the lack of social interaction, because if we're dancing, we're dancing alone.
If we're singing, we're singing alone. The point of theater is to bring multiple people to achieve one goal, which is to tell that story, and you can't really do that virtually.

Andre Lajevardi
Over 200 people watched the performance, which is absolutely nothing, and they were only $5. I know, last year, during the fall play, it was the best selling play we've ever had at Irvington, but on the night that I was the main role, we sold 250 tickets in-person, and the tickets are like $15, so we're losing money.
Besides obtaining the rights to the play, there weren't many costs for the virtual performance, which is the only reason why it didn't really matter.
---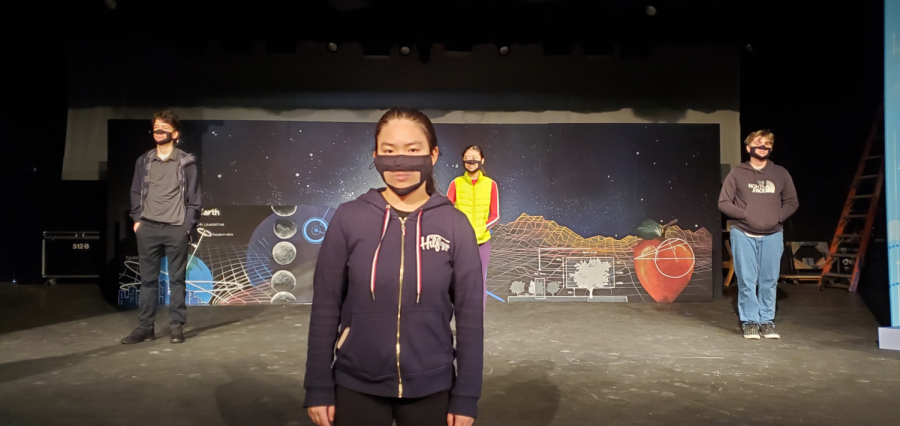 Sheryl Lim (12)
I've been singing since I was three in preschool. My old school, Kimber Hills Academy, was a Christian school. We did a Christian musical every, basically a church musical, but every Christmas and every spring. I had my first role as Camel Number One in fifth grade, and then I kind of took a break from it because I did a lot of sports throughout middle school, until I got injured. Then, I started doing actual theater in freshman year at Irvington in ICT.
For this year, we intentionally chose a show that has a lot of monologues and a lot of solo songs. There's only four or five group numbers. So when we're on stage, singing our solos, and we're doing our monologues, we can actually have our masks off, because we're literally the only one on stage and everyone else is all the way in the back of the theater, which is thirty yards away. Then with a few group numbers, we'd have masks on. We're only allowed to have fourteen people in the theater at a time.
This year's set is static; there's no moving pieces like you would have seen in most of our other musicals. For example, in Fiddler, we had rotating sets but because of COVID, we can't have that many people on set. The musical itself doesn't really have much set change anyway; most of it is pantomimed instead of having props. All we have is lighting, sound, and three camera people.
I think that the musical itself is a pretty interesting concept, I hope that people will still be interested in it. We might not have as many group numbers, but there are still some. The musical is called "The Theory of Relativity," and we thought it's a good musical for this time, because the whole idea of the musical is how do your actions impact other people's lives? Whether it's like passing someone on the street or bumping into someone who's getting coffee, right. How does that change their day and change their life over the course of time?
The whole entire first moment of the musical is basically all vignettes or monologues and solo songs. And you're like, what do these people have to do with each other, right? Then, at the very end of the show, we see how all of their lives are intertwined with each other.
It's kind of like the big message that we want to portray during this time of COVID, when we can't physically be with each other. But we want to show that we're all still connected.
I'm the choreographer, and it's kind of hard, because we have to be six feet apart at all times, in a show that's all about connecting with each other, so it's kind of ironic.

Sheryl Lim
We have to figure out how to portray in the musical, that we can still be connected even when we're socially distanced.
Some of the numbers are harder than others, like this one number that would look really good as a waltz. We can't hold on to each other, obviously, so I'm gonna have to do it with people being apart from each other. So they're just in the air, but then they're facing each other still, so they can be waltzing six feet apart.
With our performance being recorded, there's definitely more pressure, because theater is all about being live. That's what makes it different from movies and TV shows—it's that theater is live. And the reason why I personally love theater so much is because we have an audience.
Because the audience is what helps us. We love seeing the audience's reactions, when they laugh or when they cry. Mr. Ballin was telling us the other day, on our first in-person rehearsal on Saturday, "It's so good to hear you guys laugh at my jokes." Usually, when you're in a theater, you need to be able to use big expressions and big movements so that all the people in the back of the theater can see those expressions. But with filming, you're so up close, that sometimes the exaggerated expressions become too much. We're still going to be acting as if we were performing to a live audience, so we still will have all of our more theater acting rather than film acting.
We're filming on different days and different people are filming at different times. We're cutting and pasting and editing and all that stuff. So I think that there's definitely more pressure because it's like, if I didn't do well during my recording for my two-hour block of my time to record, that's just what I'm stuck with. I can't do better tomorrow.
I was so happy when we learned we were going in-person to film. I was like, thank God, no more zoom acting. Mr. Ballin has been talking to the district about going on campus for two months now, and we finally got approved.
It's so much more fun to be able to see people because this is the first time I've stepped foot in this theater since March 13th of last year. Last Saturday, I taught choreography for the first time since then, so that was really nice to be able to do that.
Especially for me, as the choreographer of the show. I was like, thank God we are in person because I do not know how I would have handled Zoom choreography. I think I would've cried, because I don't want to deal with boxes on the screen. Like, no, we're all in the same space. It's so much easier.

Sheryl Lim
Distance learning is really hard for me, especially because I'm an extrovert, and I get my energy from being around other people. That's why I love being in-person doing theater because I get to talk to people. So it's really hard for me to have motivation to do work over Zoom, or talk to people over Zoom, be in class and stay engaged during class over Zoom. Also as an extrovert, my personality is I have to have variety in my life in order to do things.
But I would tell people, just hang in there. It'll pass eventually, you just have to believe that eventually we'll go back to somewhat normal, you'll eventually be able to see people in person. At Irvington, we have really good mental health resources, so you guys should take advantage of that. Just communicate because I feel like everyone nowadays in this COVID environment, everyone understands. Just talk to people.
---
Anonymous
I think the best thing to do would just have theater in person, with CDC guidelines in place, and I think it's very possible. The schools and the government is making everything possible for sports, to have person-to-person contact, and be able to watch sports and things like that, but they're not really making it accessible for the arts. It just demonstrates the bias that governments have towards arts, because the arts make over $2 trillion a year in the US, in gross income, talking about Hollywood, Broadway, like everything, and they barely get any government funding or appreciation. I think the best thing that we could do is take all these guidelines that they're giving to the sports and put them towards theater, arts, or dance.
I don't think Irvington really does anything more than other schools. In fact, I think other schools do more than Irvington. I think Center for Creative Arts is just a name to be honest. We do the same amount of productions and have the same amount of opportunities as every other school if not less, in the Bay Area. I know in our district, sure we do a bit more and we get a bit more funding because we are considered the arts magnet school. But the only funding we get to do our plays is through the Performing Arts Club. We have to raise money to do our productions. So is the school really giving us that money, or are they putting it to sports, is the real question.
We've done Snap Fundraisers, and we got a couple thousand from there, but obviously, it's gonna be enough for our company, because of what's going on right now. But when we go back in person, we need more funding, and we need more attention from the school, especially since we're an arts magnet, this school cares more about their sports than they're putting in for an arts magnet.
I'm not disappointed in what Irvington had to offer, I just don't think they should be marketing themselves the way they do.

Anonymous
For anyone considering coming to Irvington for the arts program, I would just say don't expect much.
I would be fine with equal amounts of funding if this is a regular school, but this is an art magnet school, so I don't think it should be equal, I think art should get more attention, because if it's a magnet for it. If you go to a D1 college, you're not there for the film program.
About the Contributor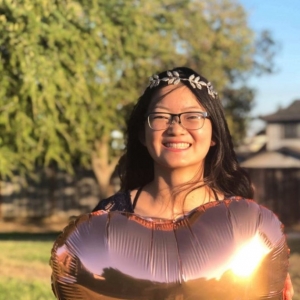 Serena Yeh, Features Editor
Serena (12) is a Features Editor in her second year with the Voice. When she's not contemplating the meaning of life, she's probably playing Animal Crossing or planning service events. She also likes crafting and would genuinely love to go back to school, so please wear a mask :)