Homecoming Takes Irvington For a Ride
From Mar. 26 to Apr. 1, ASG held its long-awaited Homecoming Spirit Week. In a normal year, Homecoming would have occurred far earlier in the season. Despite the transition online and the move to the end, the road trip-themed event was quite successful.
Typically, Homecoming would have taken place at around September to October. Being one of the biggest spirit events however, ASG pushed it in hopes of returning to school in-person, opting to do events like Love Vikings Week instead in the meantime.
"Eventually it became clear that like school will not be opening, or if it does open, would be hybrid," stated Anika Dixit (12), a member of ASG. "So then we set the date [for Homecoming] in March." 
Homecoming Week featured the Homecoming Court and selections for Homecoming King and Queen. The selection for Homecoming King and Queen was done through several rounds of voting based on the Class of 2021 roster. ASG ultimately narrowed down candidates to ten people, including Rishabh Agarwal (12), Ethan Chen (12), Shovanne Juang (12), Phoebe Lai (12), Audrey Lee (12), Angeline Liu (12), Enya Mistry (12), Will Peng (12), Sarah Tai (12), and Jennie Zhou (12). 
At the very beginning of the week, ASG stitched together a montage of the candidates, describing who exactly they were, making the court more personable. This and the transition online were not the only changes made to Homecoming Court this year. ASG members running the court, Dixit and Romir Mittal (12), also chose to make Homecoming Court more inclusive as Homecoming nominations are typically segregated by gender. For instance, on the application for Court itself, there were three options for winners to choose from – being Homecoming Queen, Homecoming King, or Homecoming Royalty.
"When people voted, they just voted for their top 10 [preferences] of people," Dixit explained. "So if the [top members] were all female, the court would reflect that."
Dixit hopes that as incoming classes continue following this system, it will likely become a norm.
Apart from Homecoming Court preparations, ASG also held spirit days, bench artwork, and events for students to receive points and help their grade with the Triple Crown. The spirit days were all different per grade level, and students submitted proof of spirit and artwork related to the road trip theme through a Google Form. This also helped determine the amount of spirit points each grade received in total.
"I thought [the week] was really fun," said Riya Puvvada (9), who was especially thrilled to participate in all the Spirit Days, while also attending some events and participating in bench building.
The first event for Homecoming was on Saturday, March 27, when Irvington's varsity football team played against Alameda High School, winning 22 to 16. Next came Homecoming Game Night on Monday, featuring games like Geoguesser, Jackbox, Jeopardy, and Pictionary; students played to receive points for their respective classes. After this, a Class Dance Livestream was held on March 30. Following, there was a Drive Thru Movie Night, where students either ordered food online or picked it up at Irvington. To conclude the events, ASG presented the Homecoming Rally. Segments included dances such as the class dances and some pieces by ICED, along with a feature on fish by IHS French Club, and a segment on teachers reading comments their students often made. For all these events, overall participation was especially high.
"One thing that we were surprised and happy with was the freshmen participation, especially because they've never experienced the spirit week before," mentioned Dixit. "For the freshmen to be able to step up like that and actually participate a lot really shows a great class and shows a lot of good hope for the future years."
Later, in a reveal with only Court members and some students from ASG, the group then announced Homecoming Court winners, Ethan Chen (12) as Homecoming King and Sarah Tai (12) as Homecoming Queen. The court members got their announcement through balloons that popped out of a suitcase, concluding the road trip but also a sign of new beginnings.
"It still doesn't feel real. I think it's definitely like a huge honor to know that people voted for me. It's still a strange thing to think about," stated Tai. "I didn't think I was going to win at all. Usually, everyone thinks that band people win because they have so many people voting for them."
With Homecoming season online, however, Tai was very surprised that she won. "I think [ASG] did a really good job with the resources and the situation that they were in," said Tai. "Usually, we're on the homecoming field, with a bunch of people in the stands, all screaming." On April 17, Irvington's Instagram page shared a special video from Kevin Chamberlain, who played Bertram Winkle on the Disney show Jessie, declaring winners for the Triple Class Event. This was done through contacting the actor through Cameo, a personalized-video app. Seniors came in first, followed by the Juniors and Freshmen, and Sophomores at last place.
After an engaging, unique Homecoming Week, ASG continues strivings to improve school spirit online and offline.
About the Contributor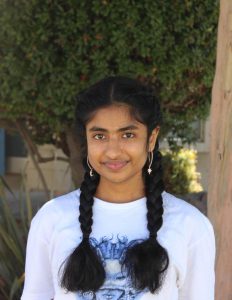 Sadhana Chari, Editor in Chief/Student Life Editor
Sadhana (12) is excited to be back for her third year at the Voice. She loves traveling, reading, and baking really badly. If you can't find her doing any of those things, she's probably aggressively playing 2048 - 3d version to replace her solitaire and cut the rope addictions.