Chemtrails Over the Country Club: Lana Del Rey's Carefree Travelogue
As a follow-up album to Norman F****** Rockwell! (2019), Chemtrails Over the Country Club by American singer-songwriter Lana Del Rey was released on Mar. 19, 2021, and has become her fifth No. 1 album on the U.K. charts. This seventh studio album by Del Rey is available for listening on music streaming platforms such as Spotify, Apple Music, and YouTube Music. Chemtrails Over the Country Club features somber vocals, subtle instrumentals, and various references to classic Americana that Del Rey is prominently known for.
Chemtrails Over the Country Club is a musical portrayal of Del Rey's travelogue. While the songs maintain a vintage vibe like her previous albums, Del Rey demonstrates her love for country by adding folkness in Chemtrails Over the Country Club. The album opens with nostalgia as Del Rey reminisces her days of freeness as a 19-year-old waitress in the song "White Dress." Throughout the track, Del Rey sings in a higher pitch that shows off her wide vocal range. The song is emotionally impactful and intriguing since Del Rey associates her free days before fame with the feeling of being a god.
Del Rey continues to emphasize her love for feeling carefree in her second track, "Chemtrails Over the Country Club," which was originally released as a promotional single back on Jan. 11, 2021. Her gentle voice and echoed vocals on top of a serene melody create a radiant sense of gloom. She makes references to horoscopes and combines the imagery of chemtrails with the sweet summer days of suburbia. Sharing the same title as the album, the song "Chemtrails Over the Country Club" represents the overall theme of freedom evident throughout the album's eleven songs.
One of her most popular tracks in the album is "Let Me Love You Like A Woman." Even though Del Rey is not involved with feminism, she touches on the fragilities, vulnerabilities, and beauties of being a woman in love. She sings about moving out of Los Angeles with her lover and how she loves them like a woman in a small town would love her significant other. This song sounds beautiful with an aura that brings forth a country, down-to-earth feeling.
In addition to the previously mentioned songs, I also really like "Wild at Heart" and "Dance Till We Die." Soaring through Del Rey's amazing poetic efforts, "Wild at Heart" has a more light-hearted tune and is similar in melody with "Love Song" and "Hope Is a Dangerous Thing" from Norman F****** Rockwell! In this point of her musical travelogue, Del Rey flees Calabasas in the dead of night and escapes fiery L.A. "Dance Till We Die" follows the nostalgic theme of the album as Dey Rey mentions several singers who were once her idols but have now become her friends. The song beautifully captures a strong current of idyllic female solidarity and companionship.
Overall, Chemtrails Over the Country Club is a stunning masterpiece. As Del Rey takes listeners along in her musical travelogue, the combination of somber instrumentals and gentle vocals craft a vintage and freeing feeling, which is peaceful to listen to. I recommend this album to people who enjoy mellow tunes and poetic, thoughtful lyrics.
About the Contributor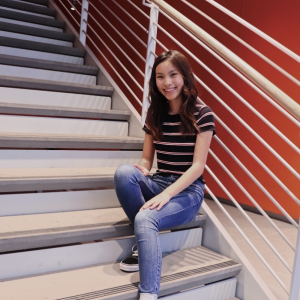 Joy Kuo, Student Life Editor
Joy Kuo (12) is joyful to be the Student Life Editor for her second year in Irvington Voice. Joy joined Irvington Voice because she enjoys engaging with the Irvington community and sharing peoples' stories. In her free time, Joy loves to take photos, watch kdramas, obsess over skincare, and drink Jasmine Milk Tea with boba (30% sugar + no ice). Find her on Instagram @jkjoykuo