Irvington DECA's Diamond Consulting Destroys Expectations
Throughout this school year, Irvington DECA ran a pro-bono consulting organization by the name of Diamond Consulting, in which members would give advice to local business owners in order to aid the business in its growth and expansion. Diamond Consulting was organized by DECA officer Sanjana Moturi (11) with the goal of helping high school students and Irvington DECA members practice their business skills while also helping local companies and businesses bounce back from the interruptions the pandemic brought.
"We wanted to give back to our community in a meaningful way. For the longest time, DECA was primarily focused on just competitive events, and since the community has given us so much support over the past 20 or so, we really wanted to do something that would help introduce a long lasting legacy," said Moturi. "We thought with the pandemic and all the local businesses struggling, this would be a really great way to meaningfully impact our community and apply what we've learned throughout DECA."
The original blueprints of Diamond Consulting were created before the pandemic hit. Original plans included students going to the local businesses in person and have a more direct approach. However, with the start of the pandemic, plans for Diamond Consulting were changed to adapt to the virtual environment. Even with the interruption and change in plans, Diamond Consulting members still were able to conduct all of the planned meetings with local businesses over Zoom. Diamond Consulting members had Zoom calls with the company owners and email threads to relay information and communicate effectively.
"We were split up into groups based on which company we wanted to work with. I worked with The Cabana Club," said member of Diamond Consulting Vaishnavi Muchukota (9). "I was able to organize fundraisers, create flyers and social media posts, and also make the front page of a website. We rebranded the cabana club completely, by coming up with a new logo and more. Our team also partnered up with another dynamic consulting group, and we created a successful partnership between the two companies."
Diamond Consulting takes pride in being able to work one on one with different local businesses. They separate themselves from other consulting programs and clubs for high schoolers by giving students not only the tools to consult, but also by teaching students the background and technical education of consulting. Through resourcing Irvington DECA's successful alumni, Diamond Consulting is able to leverage their alumni's professional experience. With the alumni sharing their real world professional experience, trained consultants from Diamond Consulting are able to effectively help their partnered business.
"Something really key to note is that it truly did inspire a lot of our students to pursue consulting in business careers," said Delisha Kumar (12), an Irvington DECA Vice President.
Diamond Consulting has also served as an opportunity for Irvington DECA members who do not have a Career Technical Education (CTE) course to get involved with DECA. Due to CTE courses being a requirement for competing, members without a CTE course were unable to take part in any DECA event in previous years. With the implementation of Diamond Consulting, members without a CTE course are able to get involved with Irvington DECA.
With the success of Irvington DECA's initiatives this year, a second season of Diamond Consulting is already in the works for the next school year. Although it wasn't how they initially envisioned it, Diamond Consulting proved to be an effective way to benefit local business and also grow Irvington DECA's member engagement.
About the Contributor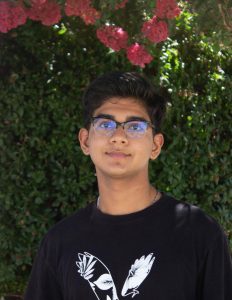 Suyash Lakhmani, Editor in Chief/News Editor
Suyash Lakhmani (12) is excited to be Editor-in-Chief for
The Voice
. He enjoys reading, watching unhealthy amounts of Youtube, and lifting. You can find him at Blaze Pizza or at Chipotle on the weekends.