Programming Power Provides Students with Proficient Programming Knowledge
"My name is Brendan Mai and I am the founder and president of Programming Power, a 501(c)(3) nonprofit based in Fremont, Bay Area. We've been operating since the fall of 2019. Our purpose is to teach kids the basics of programming languages such as Java and Python. We also started off teaching them a bit of math. Right now, we just integrate the math in the programming lectures. We have beginner classes, like Intro to Python and Intro to Java intermediate classes, Arduino programming classes, and machine learning with Python. Finally, we also have a class called AP Computer Science A. Programming power's main goal is to teach as many kids as possible and give kids the highest quality education that parents can afford to give them. I'd say we've been pretty successful so far, as we have impacted over 500 students internationally. Programming Power has 3 chapters in the Bay Area, and our curriculum is being used by other non-profit organizations across the world, such as in China sweatshops and India.
Initially, Programming Power started off targeting elementary and middle schoolers, but then later has moved on to more intermediate programming classes, and more advanced stuff, like machine learning with Python. We did this to broaden our audience, and we started bringing in high schoolers. Our classes are usually either middle schoolers or high schoolers now, however elementary schoolers are technically allowed. But there aren't usually too many in our classes anymore. Now, school children of all ages are basically our audience.
As of right now we have approximately five full time members on our team, and around seven volunteers that teach a few classes from time to time. We are still expanding our team by recruiting people that we personally know that are qualified. We also have applications where anyone is free to apply on our website.
What makes Programming Power different is the quality and the learning environment that we provide and encourage in our students. Other nonprofits are also hands on, but in the wrong places. Most other non-profit organizations just want to get the hours in for volunteering and awards. But, we specifically care about what happens to all of our students, and we also follow up on them. Our classes don't end at a date as we continue to help students as much as they need in their endeavors. In that way, Programming Power is hands-on in the right way!
We started pulling 10 kids every class, but as we got more people to publicize Programming Power, we started constantly pulling anywhere from 30 to 50 kids per class. That doesn't mean our quality has gone down. We've increased our teachers accordingly – our student teacher ratio is approximately a three to one ratio or a four to one ratio."
About the Contributor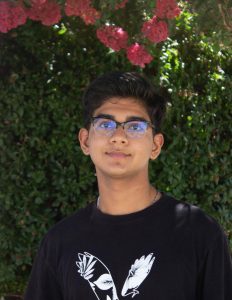 Suyash Lakhmani, Editor in Chief/News Editor
Suyash Lakhmani (12) is excited to be Editor-in-Chief for
The Voice
. He enjoys reading, watching unhealthy amounts of Youtube, and lifting. You can find him at Blaze Pizza or at Chipotle on the weekends.