Greenkeepers USA's "Life For a Life" Strengthens The Community Through Tree Planting
From Apr. 3rd to Apr. 24th, Greenkeepers USA began their Life for a Life tree planting events at Sabercat Creek Trail. Over the course of three events held on Apr. 3rd, 17th, and the 24th, the volunteers planted a total of 50 trees, including madrone arbutus, dwarf ginkgos, western redbuds, and coast live oaks.
The initiative served to commemorate the lives lost from COVID-19 in Alameda county, with a long-term goal of planting around 750 trees around Fremont, one for each death. At Sabercat Creek Trail, Greenkeepers USA planned to plant around 400 of the trees over the span of this planting.
Additionally, this is also one of Greenkeepers USA's first tree planting and fundraiser events since their founding in 2014. A similar event was planned 3 years ago, but other projects were planned in its place that educated the public on sustainability. To Meher Mehta(12), an event organizer, the uniqueness of this tree planting event makes it one of Greenkeeper USA's most important ones.
"It was definitely a very big event for Greenkeepers USA in general," said Mehta. "In the past, we've done mostly volunteer work where we've gone to elementary schools and taught children about recycling, and this gave a new focus."
Since December, the organization has been partnering with the city of Fremont and the Tri-City Urban Forestry Alliance (TUFA) to plan the events. TUFA helped provide them with the needed supplies, and the City Arborist instructed them in the specific plants that they could plant in the trail. To cover the expenses, Greenkeepers USA also held a fundraiser, where donors could adopt their own tree in the name of a deceased relative.
Once they had received enough funds to hold their tree planting events, volunteers attended weekly events in groups of three. TUFA members also assisted members with planting the trees and instructed volunteers on the type of trees and ideal conditions, helping them learn more about the natural world. Each group would plant at least two to three trees in their allocated area. To volunteers like Riya Puvvada (9), activities like this were rare, hands-on opportunities during the pandemic.
"Since the prior events were online, we weren't able to do that many hands-on activities," said Puvvada. "However, I thought that this was more interactive, since I was able to learn a lot more about the process of tree planting, and the different types of trees, and what conditions they live in."
In total, around 15 volunteers attended each event to plant the trees. Additionally, Greenkeepers USA has received $5,573 in total on their donation page.
"I didn't expect it to gain this much traction," said Mehta. "There were people walking past our trees. complimenting our work and thanking us for doing this for our community, and I did not expect that many people to recognize our work."
However, Mehta also mentions that the pandemic affected the number of trees that were planted. Due to the socially-distanced volunteering groups, they were only able to plant 50 trees out of their long-term goal. Greenkeepers USA, however, has already begun planning their next few events to cover their initial goal.
"We did get a grant from the Arbor Day Foundation to plant 100 more trees, and that most likely would happen in the fall," Mehta stated. "We will be working with the city of Fremont to complete that tree planting, so there's definitely a lot of tree plantings that are going to happen in our future."
About the Contributor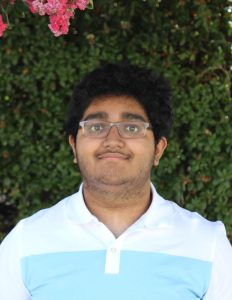 Aditya Bashyam, Entertainment Editor
Aditya Bashyam (12) is excited for his third year at the IHS Voice and his first year as Entertainment Editor. In his free time (whatever that is), he enjoys browsing on Wikipedia in an endless cycle, practicing Indian classical music, and planning on watching T.V. shows. Like many things in his life, he'll get to it later.