Irvington FBLA's Success at State Leadership Conference
From April 12th to April 30th, Irvington FBLA competed in its 2021 virtual State Leadership Conference (SLC). In its approximate three week span, FBLA members all across California competed in their respective events to represent California in the National Leadership Conference (NLC), occurring in June 2021.
Last year's SLC was cancelled due to Covid-19 complications —this year, the competition was held online via the Virtual Leadership Experience platform, notably used in other competitions, such as those held by DECA, FCCLA, and HOSA. Across the approximately three week span, members from Irvington FBLA competed in events ranging from competitive testing to recorded roleplays and business plans. On April 30th at the award ceremony, 10 successful Irvington FBLA members qualified for the National Conference.
"We did extremely well at SLC this year," said Irvington FBLA Co-President Rishabh Agarwal (12). "Irvington High School was ranked 9th overall chapter from California, and has proven itself yet again to be a nationally competitive chapter. We had 22 people/teams who placed in their events, 10 of which qualified to nationals."
In order to compete at this year's State Leadership Conference, Irvington FBLA members and other FBLA chapters in the Bay Area initially competed in a regional conference earlier this year.
"Every year around February, our chapter participates in a competition called Bay Section, that matches us up against about 15 schools from all across the Bay Area," explains Sumukh Suresh, the other Irvington FBLA Co-President. "Members did amazingly well. Nearly 70% of all competitors placed in their events and as a chapter, we won the 3rd Place for the Chapter Sweepstakes award, which indicates that we are the third best chapter in the region." As the chapter grows, Suresh expects the chapter's performance to progress, potentially reaching first place for the Sweepstakes title.
To prepare for these competitions, the Irvington FBLA officer team began working well before the competition season had even started. Irvington FBLA hosts one-on-one mentoring activities in addition to a realistic mock competition with hundreds of FBLA members from over seven Bay Area Chapters competing. Coupled with weekly competition preparation workshops, Irvington FBLA officers ensure its chapter's success at the regional, state level, and national level conferences. This preparation is reflected in members and their competitive progress.
"I competed in Business Law and Management Information Systems, which I placed 4th for in both, making me one of the only double-qualifiers from Irvington FBLA to the national competition," said Rajveersing Ravindra Raghuwanshi (11). The year prior, Raghuwanshi had not placed at conferences. "In sharp contrast, I've been fortunate to place in all the conferences I participated in this year. I placed 2nd at Minicon in Entrepreneurship, I placed 1st at Bay Section in Business Law, and then placed 4th in Business Law and 4th in Management Information Systems at the state conference. I hope to add an NLC [National Leadership Conference] award to that list for sure!"
Despite obstacles tackling the virtual transition, Irvington FBLA broke several records this year. Moving forward, the club plans to prioritize communication and team building, in hopes to increase motivation and build a community for next year when school is back in person.
About the Contributor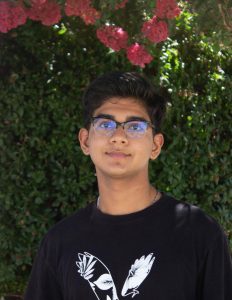 Suyash Lakhmani, Editor in Chief/News Editor
Suyash Lakhmani (12) is excited to be Editor-in-Chief for
The Voice
. He enjoys reading, watching unhealthy amounts of Youtube, and lifting. You can find him at Blaze Pizza or at Chipotle on the weekends.