SOUR Delights Listeners as a Flavorful Masterpiece
Rating: 4.5/5
On May 21 at 12:00 AM EST, Olivia Rodrigo released her debut album SOUR, a little over four months after her initial hit single "driver's license," which garnered millions of views. The album, produced by Dan Nigro and signed under Geffen Records, highlights 11 tracks, including three singles, namely, "driver's license," "deja vu," and "good 4 u." The highly anticipated album is now playing on digital streaming services such as Spotify and iTunes.
SOUR opens with "brutal," a song that begins with strings playing a mournful tune. Just as the tune is about to reach its peak, the beat dramatically changes as Rodrigo conveys pent-up frustrations. Rodrigo opens the first verse by singing, "I'm so insecure, I think/That I'll die before I drink," leading on to show just how much focus people place on having to enjoy youth when in reality, life is not that perfect. She continues, describing how the work she puts in is always shunned, and how brutal the world is around her. As the song comes to a close, she sings "And God, I don't even know where to start," embracing her feelings and putting out a fresh beginning to her album, one that promises to be diverse and varying as listeners embark on the journey that is SOUR.
The subsequent two tracks, "traitor," and "driver's license," convey Rodrigo's melancholy frustration after a breakup, looking at past experiences with tasteful imagery. Breaking away from this is "1 step forward, 3 steps back," a calm song that shows confusion after mixed signals and loss. Then comes 'deja vu' and 'good 4 u,' both opening up on pent-up anger and hate after what seems like a pathetic end to a soulful relationship. Next comes 'enough for you,' where Rodrigo sings about accepting that some things may just not work out, subtly emphasizing the importance of self-worth. In 'happier' and 'jealousy,' the artist proceeds to express lingering feelings on moving on while still having hate after a messy relationship. 'favorite crime' brings these thoughts to an end, as she looks back with wistfulness and acceptance, leading to the eleventh track, 'hope ur ok.'
'hope ur ok' is a ballad to people Rodrigo knew growing up, who dealt with pain from the people who were meant to love them. She writes about her pride at how far they've come, making the song a solid ending to SOUR.
Some particularly interesting songs in this 'jealousy, jealousy,' and 'favorite crime.' Not only did the two depict a solid storyline and transition in feelings when put together, but they also drew upon varying styles of music, making them intriguing to listen to. 'jealousy, jealousy,' an alt-rock piece written in collaboration with songwriter Casey Smith, delves into peer pressure and shame due to overwhelming requirements in the world. As Rodrigo puts it, "Com-comparison, is killing me, slowly." With imagery on social media and picture-perfect lives, 'jealousy, jealousy' shows bitter feelings and resentment at even having those thoughts. In 'favorite crime," sets the scene of how things went sour in a dangerous relationship that was almost a crime to have even occurred. It begins with quiet arpeggios played on a guitar as Rodrigo sings softly about the tragic time she had. Despite all the love, Rodrigo reflects, "And I watched as you fled the scene/Doe-eyed as you buried me," in a moment where nothing was what it seemed. She makes with a soul-stirring bridge and chorus, where nostalgia mixed with regret adds to the crisp melody. With a somber narrative, the song is a definite highlight in the album.
Others such as 'enough for you' and 'deja vu' were quite fun to listen to, with choruses reminiscent of Taylor Swift while still being unique to Olivia Rodrigo. Tracks like "traitor" and "happier," on the other hand, were somewhat bland. The lyrics contained less imagery compared to songs such as "favorite crime." "happier" in particular, did not have as nuanced a melody as many of the tracks, "traitor" included. At the same time, they were solid additions to the album as they added a sense of completeness.
Brimming with heartful passion, the array of songs in SOUR showcase Rodrigo's songstress work, musicality, and lyricism. Standing 34 minutes long, it was quite exceptional for a debut album. SOUR does not create a compelling narrative or storyline, so its beauty comes from the variety and how each song shines in its own unique way. It encapsulates the idea that Olivia Rodrigo is more than meets the eye.
About the Contributor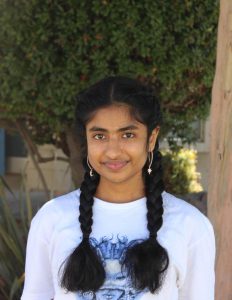 Sadhana Chari, Editor in Chief/Student Life Editor
Sadhana (12) is excited to be back for her third year at the Voice. She loves traveling, reading, and baking really badly. If you can't find her doing any of those things, she's probably aggressively playing 2048 - 3d version to replace her solitaire and cut the rope addictions.