Farmer's Protest in India: The Sikh Club's Take
Currently, in India, there is a major nationwide protest. The majority of rioters are farmers protesting against the new laws that the Indian Government has implemented. These laws would privatize the farming industry and negatively affect the lives of millions of farmers across the country. The three laws include the Farmers' Produce Trade and Commerce Bill 2020, the Farmers Agreement on Price Assurance and Farm Services Bill 2020, and the Essential Commodities Bill 2020.
200 million Indians (44% of the workforce) depend on agriculture for employment purposes. Agriculture rules have protected farmers from being exploited for 20-30 years. However, with Modi's new laws, the reforms will loosen rules around the sale, pricing, and storage of farm produce. Our families live in Punjab, where more than 25% of Punjab is agricultural. Punjab is called the breadbasket of the nation and gives grains such as bajra, food grains, rice, and sugar canes.
Although more than half of the Indian population work in farming, it barely contributes to 15% of GDP. For the past years, plot sizes have shrunk, incomes from farming have decreased, prices are erratic and middlemen consume most profits. Injustice towards farmers has been going on and is now being channelized through protests.
The root issue is Indian farmers' lack of faith in the new market reforms. Indian farmers are small and marginal; 68% of them own less than one hectare of land. Only 6% of them actually receive guaranteed price support for their crops, and more than 90% of the farmers sell their produce in the market. More than half don't have enough to sell.
The average farmer family income was around 20,000 Rs. How will the farmers have faith in the market if the private crop transactions are already so low?
The Sikh Club aims to raise awareness about current issues important to us. For example in the farmers' protest, many of us have parents or grandparents that are or were farmers, and to see them struggle and not being able to make money to survive is heartbreaking. We want others to be educated about these sorts of issues and do anything we can to help out our local community as well.
People around the world can help and spread awareness by doing simple things such as reposting powerful posts. They can promote organizations like Khalsa Aid and what they do. Spreading awareness on these current issues can get the attention of people with a bigger voice and people who can really help.
About the Contributor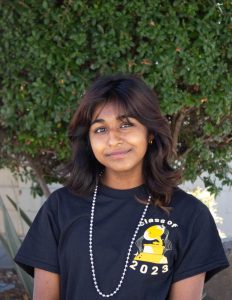 Urmi Mandal, Features Editor
Urmi Mandal (12) is excited for her third and last year at the Irvington Voice. She's been the feature's editor for the past two years. In her free time, she enjoys reading historical fiction and watching period dramas.