Mr. Thomas
I have loved Irvington. So far everyone has been exceedingly kind and respectful. Culture here in the Bay Area is much more about learning how to apply what we teach at schools. And I really think that shows in how driven all my students are.
What motivated me to teach here? A job. This is my first own classroom, and I was willing to take a job like this anywhere. But I couldn't be any luckier with Irvingtonn, and with the support here, and the faculty and within the district itself. It's made everything about this process of moving in so much nicer.
I used to teach as an assistant for special ed education in Garden Grove, in Southern California. Most of my background is in special education. Teaching special education definitely made me look at things with a different perspective. I've become very appreciative of my life, because I've learned about so many of the things my students go through.
I worked at a movie theater for ten years, from when I was 18.I got to watch most of the movies before they came out. The Batman trilogy, for example during overnight shifts. Balancing both my theater job and assistant teaching was hectic at times. My social life? Essentially none at the time.
I'm very excited to have my own classroom now. I teach multiple courses relating to history. My love of it comes from my grandpa, he fought in World War Two; he and I were really close. So we would talk a lot about historical stuff. And then in my history class, it was always just something. And I love it. Because when I was in college, the thing that stuck with me was these historical things, skills, bias, contact, socialization, things that can be applied outside of history. Because I know that not everyone's gonna like history and probably hate it. But I'm more interested in how they succeed outside of my class and giving them the tools to do that. Today, we're all biased in some way, shape, or form. So being able to detect that bias and use it to your benefit.
I lived in Orange County my entire life. My best friends are there. My family's there. SO moving was emotional, it definitely was difficult. I've been in the Bay Area, like three weeks after spending 29 years of my life in Orange County. So it's hard to say which I like more. I love the weather here though. It's nice in the morning when I wake up and study, the temperature is perfect. Always colder. People I would say are generally kinder in the bay than southern california.
My third grade best friend's mom was my teacher when I was 8. Seeing her be there for her child and for a class of students made her a role model for me. I would say I'm a people person, I really just like being outspoken and having an effect on people. That's why I want to be a teacher, I want to be the best possible role model for my students.
About the Contributor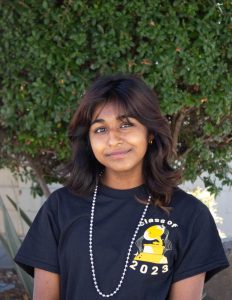 Urmi Mandal, Features Editor
Urmi Mandal (12) is excited for her third and last year at the Irvington Voice. She's been the feature's editor for the past two years. In her free time, she enjoys reading historical fiction and watching period dramas.