Teachers Adapt to COVID Restrictions
As the 2021-22 school year begins, teachers have learned to adapt their classrooms and curriculum to fit COVID protocols. Prioritizing students' safety, teachers have found creative solutions to continue effectively teaching and interacting with their students. Overall, teachers are energized to be instructing in-person, after a year and a half of virtual learning.
Mr. Rodocker, a culinary arts teacher, found that online classes made it specifically challenging for his students, as they had to cook at home with limited access to cooking materials.
"I couldn't provide supplies for each week's dish, but it became a much more real world experience of culinary because you tend to cook what you have on hand versus what I tell you to cook every week," said Rodocker.
Adapting alongside his students, Mr. Rodocker now integrates new resources into his classroom to make learning easier. By taking advantage of technology, he performs cooking demonstrations to the class using zoom.
"I had never done that before, and my demonstrations were just difficult to see for students on the side or in the back. So that experience with technology really opened my eyes to some of the tools that were out there."
Yet, with precautionary guidelines such as social distancing, his class has had unique challenges because students are required to share cooking spaces and ingredients. Due to the limited space of six kitchens, the 30+ students in each class will have to work closely together, but by maintaining the same culinary groups, contact tracing is made easier. Mr. Rodocker also expects students to disinfect counters and appliances before and after they use them, ensuring that utensils and kitchen spaces remain sanitary.
"We've eliminated tasting during cooking, which is one of the milestones of cooking, but that requires putting your mask down. Instead, our class goes outside into the courtyard to taste the food that has been made."
In an effort to reduce contact by collecting physical handouts, teachers have switched to methods of online submission. Ms. Koehler, a biology teacher, requires her students to submit assignments to Google Classroom, where she shares class resources as well.
Excited to be teaching in person, Ms. Koehler appreciates how student to teacher interaction has improved, as students are more forthcoming about their opinions and feelings regarding classroom learning. Important aspects of her class such as traditional tests and labs resumed to normal, whereas in distance learning, she assigned online experiments and had her students create their own assessments. However, there have been a few adjustments in her teaching style to ensure decreased contact.
"I'm keeping consistent lab groups and setting up labs in ways that minimize crowding, such as sending one student per group to the back to get supplies, instead of it being everyone. In addition, my room remains closed during lunch, as I need to eat and will not remove my mask around students, but students can still come by after school or FLEX if they have questions," said Koehler.
All teachers are following similar systems to Mr. Rodocker and Ms. Koehler, by placing students at consistent tables when they collaborate. The emphasis on keeping the same work groups and adhering to seating charts allows the district to accurately perform contact tracing. As it was reported a few weeks ago, Irvington had their first COVID case, which spread concern amongst many students. After speaking with Ms. Koehler, we found that teachers weren't alerted about the student or classroom the case originated from.
"At first, no, teachers were not going to be notified, but I believe teachers should be informed. After more conversation with the district, teachers will now be notified, since they move around during the period and interact with all students in the class."
By now being more informed about transmission and having COVID-specific classroom policies, teachers are able to safely communicate with their students. The administration has also supported them by offering mics and installing plexiglass around their desks, but since teachers are often walking around their classrooms, the glass is ineffective. Classes in the new building also have decreased ventilation due to airtight windows and a lack of exterior doors, but Mr. Fung, a physics, computer science, and math teacher, helped provide CO2 purifiers for classrooms with poor air flow.
As the school year continues, teachers, students, and administration must work together to ensure utmost safety of everyone on campus.
About the Contributor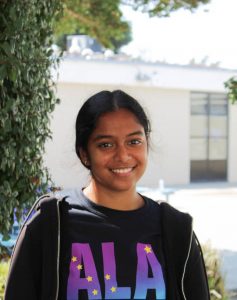 Riya Parekh, Staff Writer
Riya (12) is excited to be a first year staff writer for the Voice. She joined journalism to interview diverse people and eat good food on workdays. In her free time, Riya enjoys badgering her family members, eating Taco Bell, and spending time in her backyard.