Potential Vaccine Mandates for Students
On Oct. 1st, Governor Gavin Newsom announced a future COVID-19 vaccine mandate for students in K-12. The California state government will only implement such a mandate if and when the FDA gives full approval for the vaccine to be administered to kids between 12 and 15 years of age (since the vaccine is already fully approved for anyone above 16). This means the mandate may be implemented as late as the start of the 2022-23 academic year, accounting for the FDA processes and the state government's response.
Irvington Principal Nathania Chaney-Aiello expressed her satisfaction with the high vaccination rates of Fremont currently, but still supported a future vaccine mandate if it is indeed implemented state-wide.
"[For] complete vaccinations, it's 85% of people or slightly lower," said Chaney-Aiello. "For us, there would be very few people honestly affected by it, because everybody who has been able to get it has been getting it, voluntarily."
The rate of vaccination in Alameda County indeed is much higher than the national average, with 83% of people above the age of 12 vaccinated already. As of October 2021, 12 to 15-year-olds can only get vaccinated under an Emergency Use Authorization (EUA) which the FDA issued in May 2021. However, for a vaccine mandate to be implemented for this age group, the FDA will need to issue a full approval.
"Our district has been pretty proactive in providing vaccines," said Chaney-Aiello. "When it became available for 12-year-olds and up, there were vaccine clinics on every high school site. And we are crossing our fingers that by mid-November it will be approved for younger students…"
The FDA and vaccine manufacturers are currently conducting the necessary clinical trials and regulatory processes before giving full approval for that age group, though there is no specific timeline yet. Anyone aged 16 years and above already has full approval to get the Pfizer vaccine, which means the vaccine mandate only requires full approval for 12- to 15-year-olds.
Irvington staff are currently required to either be fully vaccinated or to test negative for COVID-19 every week, which they can do on the testing site on campus, available on each Wednesday. If and when a mandate is implemented for students, they will likely have the same requirements of vaccination or a weekly negative test. How the vaccination status will be enforced remains to be seen; however Principal Chaney-Aiello says it will likely be similar to how other regular vaccinations are also checked every academic year at the time of enrollment.
At this time, FUSD and the Irvington administration are still awaiting the FDA clinical trials and approval process, as well as how the state government responds subsequently.
About the Contributor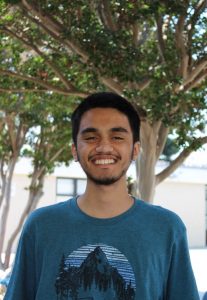 Jay Phatak, Broadcast Editor
Jay Phatak (12) is Broadcast Manager for The Voice, running the podcast in his second year working for the newspaper. Since he already has too much writing to do as a senior, he would like to edit podcast episodes rather than articles. When he has free time, he likes to beat people at chess, or take photos of the cute hummingbirds that come to his patio.