IHS Marching Band and Color Guard Perform to Victory at Feste Del Mar
On October 2, 2021, Irvington High School Marching Band and Color Guard competed at the first competitive parade event of the season at Del Mar High School in San Jose, California. Collectively, they placed in 8 separate divisions and brought home 6 trophies as a result of the incredible performances of over 300 students.
16 schools from across the Bay Area, including Del Mar, Santa Cruz, and Lincoln High, all competed at the Feste Del Mar in front of multiple judges and crowds of people lined up to see their performances. Marching band and guard arrived at 9:30 am on the Saturday of the competition, and the official parade commenced at 12:30 pm and lasted nearly five hours.
Marching Band is divided into Junior Varsity and Varsity and made up of different concert bands: wind, symphonic, jazz, and orchestra, with Drum Majors leading each band. Junior Varsity and Varsity Marching Band along with Wind I and II attended and performed at the Feste Del Mar Band Review.
Overall, Varsity Marching Band, Drum Major, and Wind I all scored first place. Junior Varsity Marching Band, Varsity Color Guard, and Wind II came in second, and Varsity Percussion placed third.
These awards were the product of months of preparation and hard work. As other students begin heading home at the sound of the ringing bell echoing through the halls, the band would begin crowding the bustling band room.
"Our sessions were from 3:00-5:30 three times a week and consisted of rehearsing music and marching fundamentals," recalls Junior Varsity Drum Major Alice Zhu (11).
Adapting to COVID-19 regulations had also placed heavy restrictions on the teams as remote learning prevented in person rehearsals; the gap in training posed a challenge for both band and guard. They had difficulty getting back into the groove and learning and memorizing their performances.
"I was overwhelmed with how well the guard has adapted and overcame a few obstacles we went through with having so many new members join remotely last year," said Jessica Fuller, Irvington Color Guard instructor. "[Irvington Color Guard] definitely surpassed my expectations for their first performance. This year, COVID restrictions have been the main difficulty we have had to manage. Practicing and doing run-throughs in masks is challenging."
Despite these challenges, a love for the work and bonding kept the groups going.
"I love Marching Band. Period," said Assistant Drum Major Vionna Huang (12). "I know so many people call me a band nerd, but honestly, I'm fine with it because the sense of community you feel when you're stuck with the same people for four, maybe even six or more years, is incomparable."
About the Contributor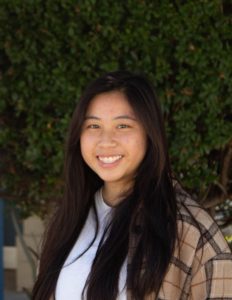 Rosalyn Weng, Opinions Editor
Rosalyn Weng (12) is the Opinions Editor for Volume 31 of the
Voice
. She's passionate about sharing her love for writing, editing, and filmmaking. She's most excited about finally being able to brutally destroy J1 kids' articles (lovingly). She apologizes in advance if she calls your writing "so bland that even Gordon Ramsay is quaking."