From Casual Conversations to Confidential Concerns, Peer Resource Club Welcomes All
The lights dim. "Turn off your phones, everyone, phones off," Mrs. Faitel reminds students. It's September 24, and this is IHS Peer Resource Club's focus advisory (where students of similar interests are chosen by a teacher to be in their advisory). "You cannot have your phones on for today's training."
Phone screens darken and books are put away. Eyes focus toward the front of the room, where the projector displays a video called "Shattering the Silence." The voice of teenager Sadie Penn fills the room.
"On October 1st of 2015, I tried to kill myself."
She explains her own struggle, her reasons for attempting to die by suicide, and why it is important to speak out about this topic and reduce the stigma. 81% of people who plan to die by suicide tell someone about it. That means other people have the ability to reach out and possibly prevent the suicide of a loved one.
The peer counselors are a group of about 20 students that meet in the Wellness Center, room 49, every lunch except Wednesdays. During this time, Irvington students can come in to speak to a peer counselor about any concerns they might have. Counselors attend advisory training sessions to learn how to counsel students.
"If someone misses the […] 'what should I do if I have a bad test grade, I don't want to tell my parents' [session], they'll be fine," Peer Resource Club President Tanisha Deep (12) explained. "But for the serious topics, you have to be paying attention."
Casual topics, such as the test grade example above, come up much more often. During training advisories, peer counselors are taught how to handle these topics and make sure students feel heard.
Irvington's Peer Resource Club is based on programs at Washington and Mission San Jose High School. Washington has a Buddy Program where students can share their concerns with student Advocates. At Mission, students can sign up to take a Peer Resource class.
Personal experience also contributed to the formation of the club at Irvington. Deep noticed that a few of her friends were struggling but didn't reach out to counselors.
"They were like, 'Oh, I wouldn't want to go to the counselors, because first of all, I'm kind of intimidated by the idea of talking to an adult. And also, I wouldn't want […] a call to my parents,'" Deep shared. "People tend to go to their friends, and they feel comfortable doing that."
Deep talked the idea over with Mrs. Faitel, who had had similar experiences. Mrs. Faitel decided to become the advisor for Peer Resource Club as she felt that speaking to a fellow student could be helpful.
They received approval from Mr. Honerkamp, one of Irvington's assistant principals, which Mrs. Faitel felt was an important step.
"I would need to know that I could contact the administration and they would have my back if something [serious] were to come up. Typically it's called triage," Mrs. Faitel said. "The minute I heard we had administrative support, I was all for it."
Serious topics include thoughts of harming oneself or others. Peer Resource Club prioritizes student confidentiality, but they are required to tell an adult if someone talks about these topics with the intent to follow through.
Along with confidentiality, peer counselors learn different counseling techniques. One strategy is to reflect back what the other person has said. This confirms that the counselor has been listening and helps reduce possible misinterpretations.
"We're just a sounding board," Mrs. Faitel said. "Sometimes talking through [a situation] with someone who's neutral, who isn't involved, helps you figure out what the best plan of action is."
Jasmin Cruz (11), a peer counselor with the club, felt that one of the most valuable lessons she learned was that every behavior and action has a reason behind it. This can stem from trauma or outside circumstances, and learning that has helped her understand others better.
"It's just nice, listening to people, helping them out, and then seeing their growth as they change and feel better," Cruz said.
Mrs. Faitel, Deep, and Cruz hope that all students see the Wellness Center as a safe space for anyone. Students can come in to hang out, play board games, and have casual conversations.
"They don't have to talk to a single peer counselor ever if they don't want to, but if they do, then someone's here just in case," Mrs. Faitel said.
"[People] don't have to show up just to pour their feelings out," Cruz added. "It's welcome to everyone just to hang out, be there. It's a safe community."
Peer Resource Club is located in the Wellness Center, room 49, in the middle of the senior hallway.
About the Contributor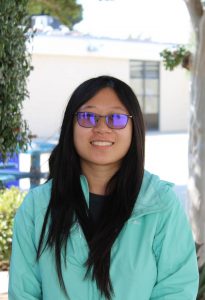 Nichelle Wong, Staff Writer
Nichelle Wong (12) is a staff writer for the Voice. This is her first year here, and she looks forward to expanding her repertoire outside of creative writing to include journalism. In her free time, she enjoys folding origami and planning imaginary conversations.