Thankful for Staff: Deanna Silva
My name is Deanna Silva. I grew up here in Fremont. My favorite memories here have to do with the small-town feel that we had. I remember there were fireworks at Lake Elizabeth and a parade called the Pathfinders Day Parade that everybody would go and see, back in my childhood. Some of the major challenges I faced were ones dependent on adjusting to the changes. Growing up, we had a lot of freedom. But then after I had my own child, and it changed because now things are a little more guarded. You have to be more cautious. 
I think I was always involved in sports growing up. I played softball throughout college, and after, I coached at a Kennedy High school for a few years. So I think just the whole teamwork and the building of character helped me develop as a person a lot. I've met people along the way who I'm still friends with when I met them as a teenager. Before you know it, we have kids who are into sports, and so it's kind of a rotating thing. You learn a lot in any kind of team, whether you're working with people, a band, or in choir. You learn how to work with different types of people there.
I would say that my biggest inspiration would be my freshman science teacher because they were always very authentic with us. They were very caring, very interested in what we did outside of school, as well as inside. I also, after years, ran into one of my elementary school teachers that as an adult, we had a friendship where I could talk to him about questions that I had with my own daughter. So, teachers were mostly my role models, besides my mom, who I always went to for questions. She was always a strong person, a great support and role model for me since she had to raise us by herself.
Two things I could have done differently would have been to finish college and travel. I didn't have the opportunity to graduate because of family issues. I would have traveled a lot as well if I could have. I would like to travel to Europe, and going to Greece is a dream of mine. I'm just fascinated by the culture and the geography. The caves, the buildings' architecture all astound me. I haven't done much traveling. I've gone to a few places, but, slowly, I'm starting to get to the point where that may not be possible anymore. 
I worked for 25 years at Safeway, right out of high school. I went there because that was supposed to get me through college. I ended up staying there because it worked well with my family and I had the flexibility and everything. Once my daughter graduated high school, I wanted to get into the school district, and that's how I found enjoyment in working with students. I like seeing your accomplishments and helping you guys out, and when people come to the office and need guidance or direction or whatever, I like being there. I enjoy the time that I have here. I do. I've met a lot of co-workers who have become friends. The students are really inspiring because they're really driven. I've seen a lot of good along with some rough spots, too, but I enjoy seeing the accomplishments from when students come in as freshmen and leave in their senior year. It's very exciting to see all the growth at this school.
About the Contributor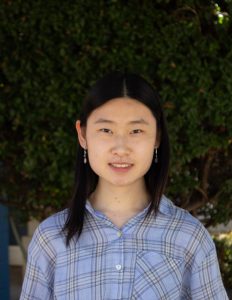 Sophie Mo, News Editor
Sophie Mo (12) is delighted to be a news editor for
The Voice
this year. Other than staring holes into a google doc never to write, she can be found scouring for new books and literary magazines to consume in her spare time.