Alumni Thankful to Irvington: Jason Wang
My name is Jason Wang. I graduated from Irvington, class of 2011. I'm currently working as a software engineer in San Francisco.
I'm definitely most thankful for the people that I was able to meet at Irvington, whether that be friends I've kept throughout the years or teachers who really inspired me to be a lifelong student of learning different things. I'm also thankful to the school for igniting different passions. Taking AP Computer Science was my first introduction and exposure to programming. It was a gateway to where I am now. The course was taught by Mr. Kumar, who really encouraged me to learn not for the sake of earning a grade, but to learn for myself. I would also like to reiterate my thanks to Mrs. Anne Chung for the way she welcomed us into her classroom during lunch and breaks. It was really nice to have someplace to go. I think not only do her math courses prepare you for the next step in math, but they also give you the chance to practice working hard at something that doesn't come easily.
The principal at the time really emphasized the importance of showing up to work on time. I think that that's a simple lesson that really goes a long way. I think the benchmark projects were also really impactful in that you really learn how to work with other people on a team. We learned how to interact with people in the nonprofit world and various volunteer organizations, and I think that really prepares you for life after high school.
I remember long afternoons and nights trying to meet deadlines for Yearbook with the other Yearbook staffers. We were all in it together, trying to produce something that we really cared about.
Post-graduation, I'm thankful for experiences that shaped me into being an adult – learning how to make friends, learning how to get through tough situations. And for having the chance to grow up and not have to rush anything.
For Thanksgiving, I'm going to see my parents. Last year, I didn't see my parents out of an abundance of caution. Hopefully, this year will be like all the years before that.
About the Contributor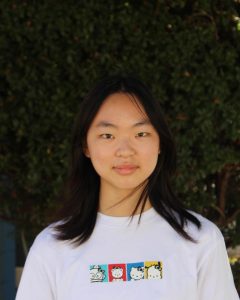 Helen Yuan, Opinions Editor
Helen Yuan (12) is excited to edit for Opinions in her second year at The Voice. She's looking forward to finishing her senior year and graduating. In her free time, Helen overanalyzes poetry and re-organizes her Google Drive folders.