New Clubs at Irvington High School: IHS Car Club
Car Club is currently a trial club. Its advisor is Mr. Goulet, and it was founded by Neil Kharkanis. Students who are interested should join the club's mailing list through their Instagram profile. Read president Neil Kharkanis's (12) experience creating the club.
What is Car Club?
What I wanted the club to be was teaching people about cars and teaching people how to work on cars. It was also finding people who are interested in them and expanding their interest. It's not about driving. It's not about owning a car. It's about interest in the subject.
What inspired you to establish Car Club?
Towards the end of last last school year, Mr. Goulet organized a car meet at Irvington where people could bring their cars or invite their friends or family to show off their cars in the main parking lot. I brought my car – that I just bought – and got to meet all these cool people, like old people who brought their Mazdas and imported cars from Japan that came from the 60s. I was talking to Mr. Goulet, and he's like, I think it'd be really cool if we had a Car Club at Irvington. A couple days later, I emailed him and said I would be super interested in starting this club. I've always been interested in cars and just having the opportunity with Mr. Goulet helped me share that interest with people.
What was the club creation process like?
Most of the stuff was just copy paste from other clubs. Also, this year they streamlined the process a little bit more. You don't need to be approved by all the clubs anymore, you just need to be approved by six people who run ICC. One thing I would say is that communication was a little bit hard with ICC. Other than that, the paperwork process was a lot easier than it has been in previous years.
Actually, the first day of summer vacation after the last school year is when I started trying to find people for the club. I had a full officer team, advisor and events during the summer. We were already a fully functioning club before we [officially] created anything.
How has student reception to the club been so far?
It's actually been a little funky for us. When I gauged interest, it was all online, and people were super interested in it. It's been a great response from people online who say, oh, I don't actually know that much about cars, but it seems cool. It inflated our ego. Then we actually have our meetings, and around five people come to them. And our monthly events, which are car meets, have seen attendance going down steadily ever since our first one. I feel part of the reason it's like that is because our events may not be interesting enough for people.
Right now, the only things we have going are teaching people how to do basic car maintenance. Recently, we've taught people how to change a spare tire and explained how to check on your oil and coolant levels in the car. But the car maintenance classes are for people who are new to it, and it's not interesting for people who are already really into cars. And the car meets, they're not really interesting for people who aren't super geeky about cars.
What would you say to students who are on the fence about whether or not to join the club?
Just do it. Come to our meetings. I think if you come to our meetings, you'll realize that it's more than what you see on the surface. It's not just a bunch of weird car geeks huddled in the corner, tinkering with tools or whatever, saying unintelligible nonsense. It's a culture of car enthusiasts. It's a community of people who can help you, who will talk to you about this stuff, who will get you interested in this field.
More about Car Club through member Alan Michavito's (11), perspective:
Why did you join the club?
I joined the club because I wanted to meet new people and do car stuff. I've loved cars since I was a kid, but when I joined they taught me how to do things I didn't know how to do. We have really cool car meets and learn stuff during lunch, like how to put a wheel on and how to do an oil change.
Would you recommend this club to other students?
I would recommend it, because it's not just a club, it's a family.
About the Contributor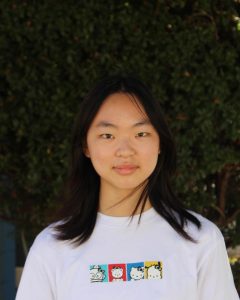 Helen Yuan, Opinions Editor
Helen Yuan (12) is excited to edit for Opinions in her second year at The Voice. She's looking forward to finishing her senior year and graduating. In her free time, Helen overanalyzes poetry and re-organizes her Google Drive folders.