Irvington's 3% Math Extra Credit Capacity
This year, after prolonged discussion, the Math department decided to implement a three percent extra credit capacity rate on math classes throughout the school. This decision had been in development three to four years ago as the department debated whether to have a limit on the amount of extra credit that should be given to students or not. The way how this maximum 3% of extra credit is given varies between teachers.
"As far as tests go, answering a bonus question or sometimes the note sheet that I let students write [will allow for a] bonus value. If you write a really good [note sheet], you can get 3% tacked on to your test grade," explained Mr. Johnson, who teaches Algebra 1 and Precalculus. In the past, Johnson had also awarded students with a whopping 10% worth of extra credit if both the classwork and homework were fully completed and correct. Now, he mainly gives those points to his students through the participation category and through his tests. He believes that the supplementary points he offers are a true reflection of a students' ability to do well in class, and although the percentage limit is not as much as before, it is better to have implemented it so that students do not entirely rely on extra credit to support their grades.
In Ms. Chung's case, in her accelerated Algebra 2, Precalculus, and AP Calculus AB classes, she has a 1% category in which she inputs extra credit from math contests students can take. Besides allocating those points into a separate category, Ms. Chung may also curve her students' tests to accommodate for additional credits.
"It's 3% extra credit if you don't really curve your tests," said Ms. Chung. "But if you curve your tests all the time, you don't really need to give them extra credit, because their tests are already adjusted. I do a mix [of curving tests and giving extra credit]. Sometimes I'll curve if I feel like the test is too hard."
Though extra credit and its 3% maximum capacity rule do not play too much of a significance in her courses, Ms. Chung believes that it aids students and is well deserved for them given the difficulty of her exams.
However, there are teachers who do not utilize extra credit in their grading.
"People should not rely too much on those 3%," Ms. Patkar, who teaches Algebra one and Geometry, explained. "If the grade is 82, it becomes 85. How much does that help? They should aim at 100%. I am available all the time to help them during class, flex, and advisory, so they should take advantage of that." Ms. Patkar wants her students to rely more on their preparedness rather than solely on extra credit. Her tests have questions that already have appeared on her students' homework, and, as a result, she wishes for them to depend more on the review they have done in class. Minor adjustments are also made by curving if and when the class struggles with a certain concept.
"The opinion I expressed about extra credit opportunities is true only in my classes and for my students," said Ms. Patkar. "Each teacher is a qualified professional and they are the best judge of what is the best for their own students. I respect each teacher's expertise, academic freedom, and respect the extra credit policies they have in place for their students."
About the Contributor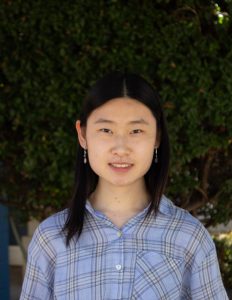 Sophie Mo, News Editor
Sophie Mo (12) is delighted to be a news editor for
The Voice
this year. Other than staring holes into a google doc never to write, she can be found scouring for new books and literary magazines to consume in her spare time.